'13' Trailer #3: Still Selling Weird, Unconvincing Action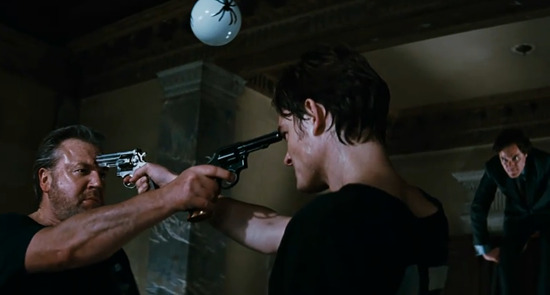 In Gela Babluani's film 13 Tzameti, a young man lands in the weirdest game of Russian roulette ever held.
Babluani remade the French film for US audiences as 13, but rather than hitting theaters in regular fashion the film found a perch on a dusty shelf and sat there for quite some time. Anchor Bay is finally going to release it and a new trailer has just hit. While the movie has an eye-catching cast (Sam Riley, Ray Winstone, Curtis "50 Cent" Jackson, Alexander Skarsgård, Mickey Rourke, Jason Statham and Michael Shannon) this trailer makes it look like it could well be a massively silly action thriller. Check out the footage below.
So this trailer is marginally better than the one we saw in November of last year, when it bore a Paramount Vantage label. It's a lot more zippy, at least. But it also makes the film look like something wildly and not entertainingly cartoonish — on par with Last Man Standing, perhaps. (Maybe it's the hats.)
And while I love Michael Shannon, who is able to do wonders with many different types of material, even he looks like he's floundering here. Shame about that.
Yahoo has the HD version.
A desperate young man assumes a false identity in order to enter a high-stakes underworld game of Russian Roulette in order to pay off his debts. In this game of power, violence, and chance wealthy men gamble behind closed doors on the lives of shooters who take aim at each other, armed with nothing more than a bullet in the chamber.