Superhero Bits: Kick Ass 2, Thor 2, Man Of Steel, Batman, Spider-Man, Super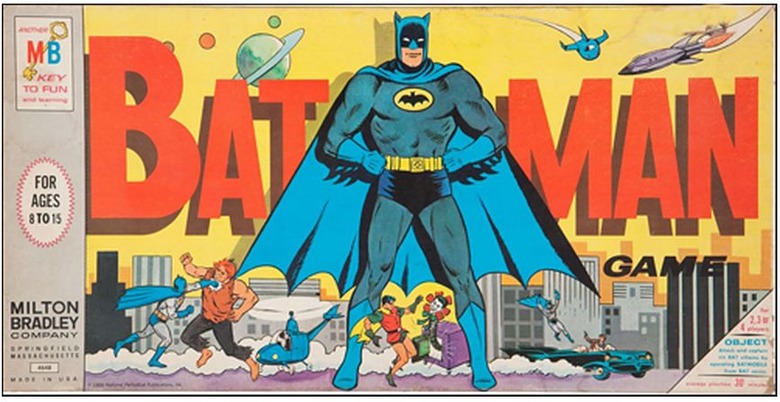 Want to see a gorgeous blond dressed up as Supergirl? What does Chloe Moretz have to say about Kick Ass 2? Which moment was considered the most shocking in comic book history? Where can you watch a new X-Men animated series? What's up with that other suit Michael Shannon is wearing on the set of Man of Steel? How is X-Men First Class doing on Blu-ray? Can Kat Dennings work Thor 2 into her schedule? Is Nicolas Winding Refn a big Wonder Woman fan? Read about all of that and more in today's Superhero Bits.
Shout Factory is jumping off the Blu-ray release of Captain America: The First Avenger to release a double feature of the 1979 made for TV movies Captain America and Captain America II: Death Too Soon. Thanks to Superhero Hype.
Chloe Moretz spoke to Movies.com about the possibilities of a Kick Ass 2 and returning as Hit Girl. There's more at the link but here's a taste:
I'd like to do it in the next year or two because I think that's a really good time age-wise. You can show Hit Girl in a different light which would be a lot of fun.
Super Punch points out there are several vintage Batman board games on sale on eBay. Prices vary depending on condition but you can currently bid on the above game for $15.
G4 just announced they'll be airing a new anime series based on the X-Men, featuring Scott Porter (Friday Night Lights, The Good Wife) as the voice of Cyclops. It premieres Friday, October 21 at 11 p.m. Head to Superhero Hype to read the full press release.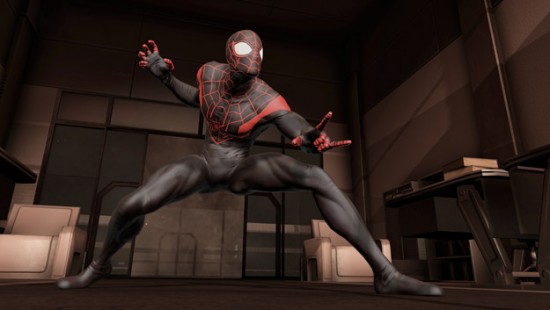 Superhero Hype reports you'll be able to use the Ultimate Spider-Man suit in the upcoming video game Spider-Man Edge of Time. That's a photo above. Obviously.Comic Book Movie points us to this Detroit radio station who interviewed Clark Gregg about The Avengers. You can download the audio there to hear him tiptoe around questions about mo-cap villains, the CG Hulk and more.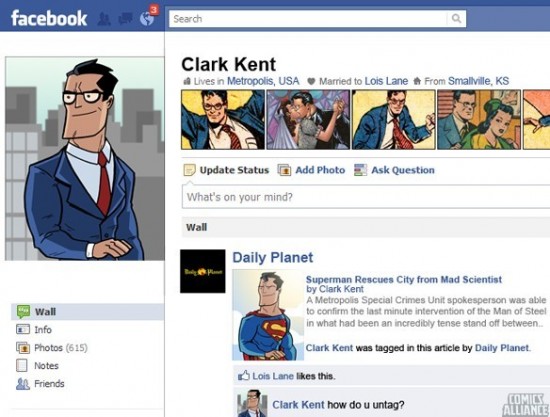 Joking about superheroes on social networks is a perfect storm of internet humor and comic book geek. We've run a few example in the past but this one is the best yet. Comics Alliance has posted a multi-panel comic showing some funny stuff that might happen if Superman joined Facebook. Panel one is above, click the link to see the rest.
Due to the amount of graphics and images included in Superhero Bits, we have to split this post over THREE pages. Click the link above to continue to the second page of Superhero Bits.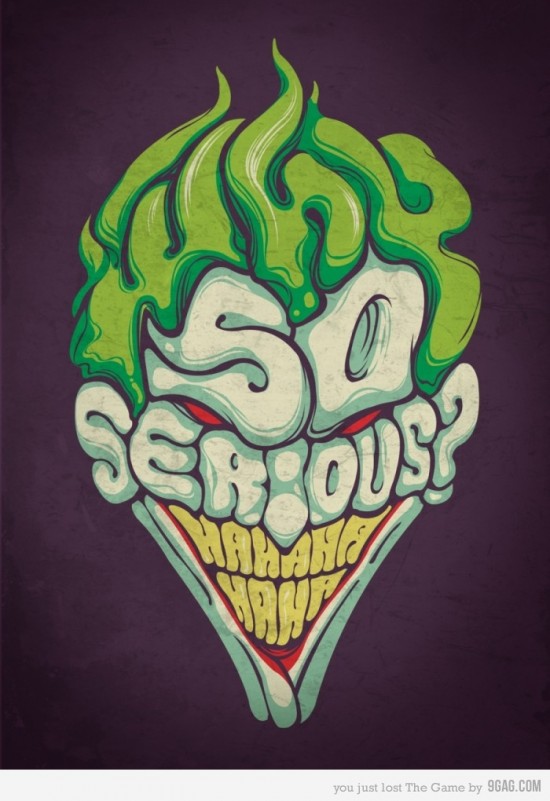 9Gag has posted this cool piece of fan art by Teknosexual of the Joker.Kat Dennings has a new TV show coming out called 2 Broke Girls and Collider asked if the show would stop her ability to do Thor 2:
Marvel is so secretive; we never know anything until the last minute. But, one of the things that happened when I signed for this show was to make sure that I could still do films on my hiatus, so they would absolutely work that out. I did Thor before I did this show, so they would find a way to work everything out, if I was in Thor 2.
The Hollywood Reporter presents an extended version of this great scene in X-Men: First Class.
Speaking of X-Men First Class, THR says it kicked ass on the Blu-ray charts this week.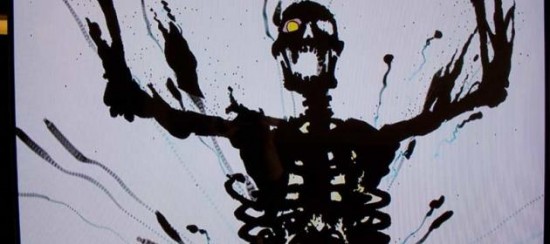 Total Film has complied a great slideshow called 40 Shocking Comic Book Moments including some super obscure stuff as well as more well-know bits like #6 above from Watchmen #4 where we find out how Dr. Manhattan became blue.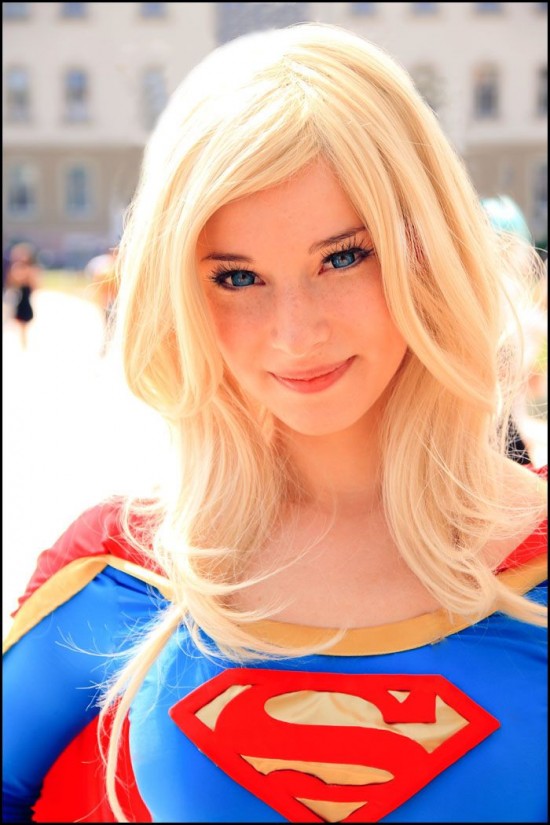 Geeks Are Sexy lives up to their name by posting these photos of DeviantArtist EnjiNight dressing as Supergirl. Wow.Collider spoke to Drive director Nicolas Winding Refn about his interest in possibly directing a Wonder Woman movie:
I think my whole fetish and my interest in Wonder Woman came from three or four years ago. My daughter got obsessed with the Wonder Woman television show. The old, '70s version. I would watch them back to back with her and really enjoyed them immensely. And I've always been fascinated by her as a character. I'm not a knowledgeable comic fanatic, as a lot of other people are. But I was very fascinated by a woman of power. And I couldn't come [up] with any other great role models for my daughter to, say, 'That's a woman.' Besides her mother. So I started getting wholly, completely obsessed about Wonder Woman and saying, 'I've got to make her as a movie. I've got to make my take on it.' And then I met a comic book writer who told me the origins about her, which was very fascinating and I began to see that myself and the creator of her probably had the same fetish of women. And then I knew that I had to make this film... if it ever gets made.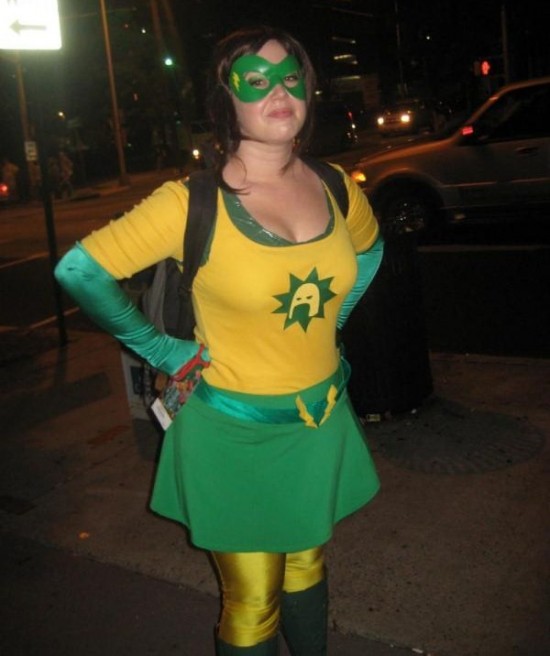 And while we're posting pretty girls dressed as superheroes, here's another with a slightly more obscure costumer: Boltie from James Gunn's Super. Great, great movie to rent if you haven't seen it and like superheroes. Thanks to Epicponyz.
THE NEXT PAGE HAS POTENTIAL SPOILERS FOR MAN OF STEEL AND THE DARK KNIGHT RISES.
Due to the amount of graphics and images included in Superhero Bits, we have to split this post over THREE pages. Click the link above to continue to the third page of Superhero Bits.
[No photo]
Ed Larom posted this photo and more on the Man of Steel Facebook page (via CBM) of Michael Shannon in a black body suit on the set of Man of Steel. Is this what Zod looks like when he's just walking around? Or is this just the underwear for the mocap suit? The plot thickens.
BlogDowntown (via CBM) found a stunt description of something about to shoot in Magnus Rex, aka, the spy title of The Dark Knight Rises, detailing a dropping truck, explosions, gun shots and more. Head there to read the details.
[No photo]
Comic Book Movie also posted this photo montage of Dark Knight Rises set photos that were take over the past week or so. Click to blow up.