See 'The Muppets' Parody Trailer 'The Pig With The Froggy Tattoo'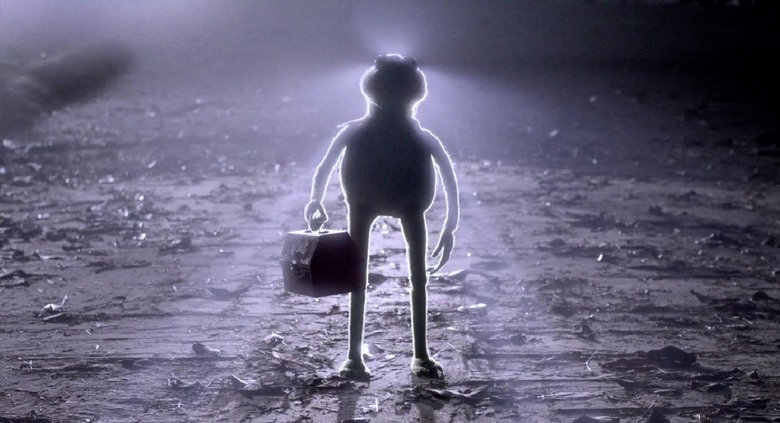 A few lucky movie fans were surprised yesterday with an 8-minute extended trailer for The Girl with the Dragon Tattoo, but sadly, the video has yet to be released for the general public. On the bright side, the rest of us can now make do with "The Girl with the Froggy Tattoo" — yup, another amusing parody teaser for The Muppets. Watch Kermit, Miss Piggy, and the rest of the gang get gritty and tough after the jump.
[via Facebook]
The marketing for The Muppets has proven remarkably pop culture savvy so far — the very first teaser cleverly disguised itself as a fluffy romcom, and since then they've released "The Fuzzy Pack" as well as a fuzzy spin on Green Lantern. But as "Froggy Tattoo" points out, it's been some time since they released a parody trailer, so we were probably due for another one.
"Froggy Tattoo" doesn't offer a ton in the way of new footage, but that's not the point. The point is that it's amusing watching the sweet, colorful, family-friendly Muppets take on the dark, violent The Girl with the Dragon Tattoo. Oh, Muppets. Is there anything you can't make cute?
The Pig with the Froggy Tattoo isn't a real movie, obviously, so it's not going to hit theaters ever. But you can catch The Muppets when it opens November 23, 2011. Directed by James Bobin, the film stars Jason Segel, Amy Adams, Chris Cooper, Rashida Jones, and more.
Synopsis:
On vacation in Los Angeles, Walter, the world's biggest Muppet fan, and his friends Gary (Jason Segel) and Mary (Amy Adams) from Smalltown, USA, discover the nefarious plan of oilman Tex Richman (Chris Cooper) to raze the Muppet Theater and drill for the oil recently discovered beneath the Muppets' former stomping grounds. To stage The Greatest Muppet Telethon Ever and raise the $10 million needed to save the theater, Walter, Mary and Gary help Kermit reunite the Muppets, who have all gone their separate ways: Fozzie now performs with a Reno casino tribute band called the Moopets, Miss Piggy is a plus-size fashion editor at Vogue Paris, Animal is in a Santa Barbara clinic for anger management, and Gonzo is a high-powered plumbing magnate. With secret, signature, celebrity cameos, "The Muppets" hits the big screen Nov. 23, 2011.