Early Buzz: Surprise Eight Minute Trailer For David Fincher's 'The Girl With The Dragon Tattoo'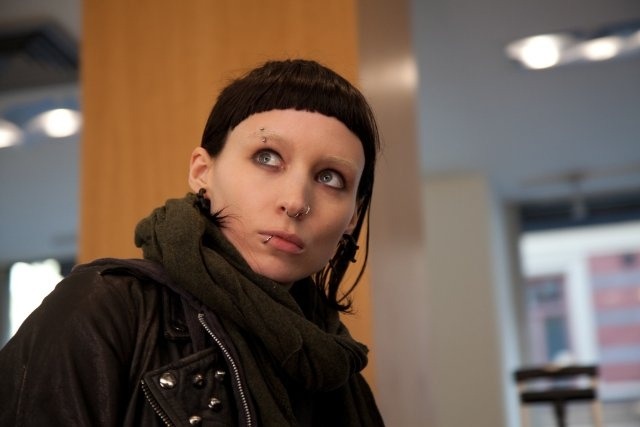 I was in line for a movie at the Toronto Film Festival when I recieved a mysterious e-mail with the subject line "GDT". At first I thought it had something to do with Guillermo Del Toro, but the inside of the email read:
"Rumor has it something unusual and interesting is playing before the advance screening of Straw Dogs this Wednesday night.  David would love for you to check this out if you can make it."
That was followed by the time and loction. As luck had it, I was already booked to return to Los Angeles Wednesday morning, so I was able to attend. The screening was for Rod Lurie's remake of Straw Dogs — a Sony Screen Gems movie. After taking to my seat, I noticed that David Fincher was seated two rows in front of me, alongside a man with jet black hair — Trent Reznor. Why were they in attendance for this word of mouth screening of Straw Dogs? Would we be seeing a new trailer for Dragon Tattoo?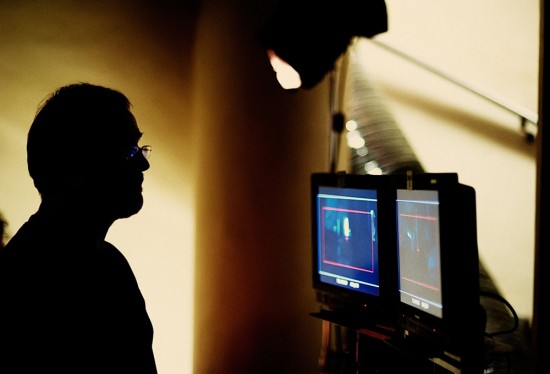 We got much more — I'm not sure what you would call it, but it was 8 minutes long and played like an extended movie trailer. There was no MPAA Green or Red band screen at the start, it just begins. I'm not sure if this will be only shown at the promo screenings of Straw Dogs, some of which happen Thursday night in regional markets. I have been told that it won't be attached to prints of the theatrical release of Straw Dogs, but you never know? I would hope that they release this online in the wilds of the internet for everyone to see — possibly on the viral tumblr blog mouth-taped-shut.com which we discovered last week.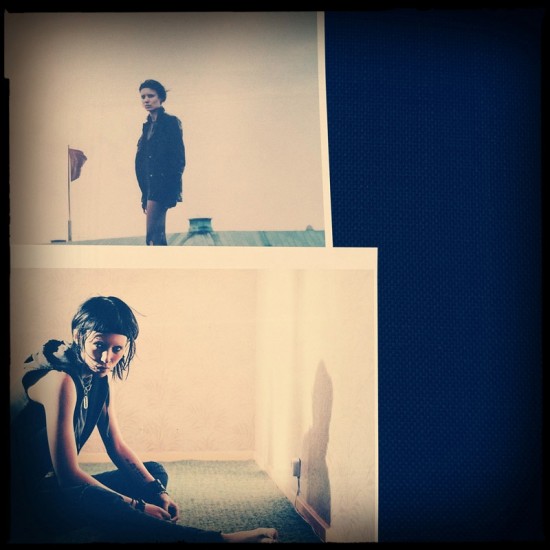 I'm not great at providing descriptions, and I've always found trailer descriptions to be kind of pointless — so I'll just give you my reaction and observation:
The trailer is awesome. While some two minute trailers completely ruin an entire movie, this 8-minute piece gives you enough to understand the story but not so much that you feel like you've seen it all. Somehow it feels like just an enticing appetizer — a teaser trailer. So if you're afraid of watching this if it is ever released more publicly, don't be.
The look and tone is very sterile yet moody — a feel I would compare to Se7en, but shot on an updated version of the RED cameras that Fincher used to shoot The Social Network.
The score by Trent Reznor and Atticus Ross feels unlike anything from Social Network. A mix of electronic beats and what sounded like a xylophone. The end of the trailer turned into fast cuts and the score elevated to a more intense rock-style track. I'm excited to hear more of Reznor's score, especially now that it is clear that it sounds very different than his masterful work on The Social Network.
Rooney Mara commands every since shot she appears in. Even after having seen many photos and shots of her from the teaser trailer, I'm still shocked at how different she looks. Her mysterious look will draw the audience in.
The shots, as you might expect, are very controlled and highly composed. One shot that stuck out to me was a dolly in from behind Rooney Mara, which continued over her head and ended up in front of the actress with the camera framed upside-down. I hate describing these things and wish I just had a copy of the footage to show you guys.
After the trailer screened at AMC Century City, the audience applauded — something that is very unusual for a trailer.
I havent read the books, and have been avoiding the original Swedish film since it was announced that David Fincher would be helming the American adaptation. I have also stayed away from reading too much about the plot, so this trailer was my first real reveal to the mysterious hunt. I'm more excited to see this film than before.
I really hope they make this trailer publicly available. If I were you guys, I would comment, tweet, e-mail and scream at Sony to make it available.
Here is a round up of rections to the trailer from around the web:
FirstShowing: "If you loved his Oscar winning score for The Social Network, just wait until you hear this. There were also plenty of Fincher's amazingly sleek shots of Sweden and the various characters and locations involved in this intricate story, since it is clearly not just an Americanization of the novel. I'm already considerably excited for this movie, but this trailer was awesome."
Film Stage: "Fincher's keen sense of framing is here, along with his overall dark tone.  ... The grim humor from the novel is transferred here as well.  ... The score from Trent Reznor immediately impresses. The first six minutes of the trailer is more of his ambient work, with one section using a single repeated piano note to build tension"
ComingSoon: "The trailer is cut very tight and does a good job of setting up the film – typical Fincher tone, pace, picture color and camera framing are all over the trailer. The flashbacks did not seem out of place and had visuals that reminded me of Zodiac in that all images seemed to be within a certain time period. What I believe to be Trent Reznor's score plays and is very much in line with what can be heard on the film's official website."
ScreenRant: Overall, the footage is loyal to the original, while showcasing an improvement in both visuals and music. Moreover, the editing style of both the teaser and this extended footage is most impressive. It warrants a mention that the film will likely be a dialogue-driven crime thriller with less of the frenetic pace of these trailers. That is a huge assumption, but considering the original films, one can expect it to be more plot-driven.
Anthony Breznican (EW): Dragon Tattoo footage was beautiful. Ice cold, sinister and haunting.
Movie City News: Glistening, gorgeous: the crystalline light in the nine-minute trailer for David Fincher's Girl With The Dragon Tattoo. ...  Swedish eggshell-to-matte-gray light allows color and dimension to pop in almost every image in the product reel.
Harry Knowles: Wow, the pure liquid shit of Rod Lurie's STRAW DOGS has wiped the rather remarkable 8 min of Fincher's Girl w/ the Dragon Tattoo from brain.
LatinoReview: The 8 minute Prologue/preview for The Girl with the Dragon Tattoo was damn good.  Can't wait to see the full movie already.
FilmFracture: Saw the uber-long teaser trailer for The Girl With The Dragon Tattoo tonight.  Sad to say, but, I was not impressed.