Tyler Perry Beats Out Steven Spielberg And Jerry Bruckheimer To Top Forbes List Of Highest Paid Men In Entertainment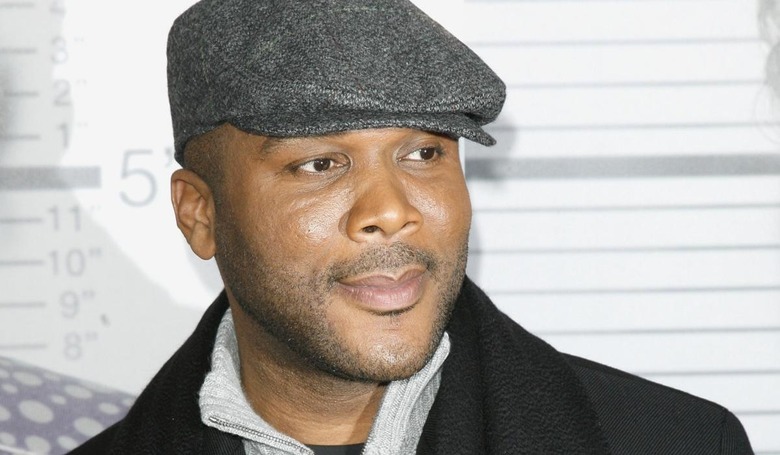 Hey, remember when I shared with you that list of Hollywood's highest paid actors and how depressing that was? Well, it turns out Leonardo DiCaprio's $77 million is small potatoes compared to the incomes of some other, even more powerful players. Forbes has just released its list of the highest paid men in entertainment, and multi-hyphenate Tyler Perry has come out as the top earner with $130 freaking million. DiCaprio did manage to make it in the top 10 — down at #8 — making him the only actor besides Perry to do so.
The rest of the top 10 are actually a fairly varied bunch, hailing from a wide range of industries. In addition to movies and TV (obviously), sports, publishing, sports, music, and radio are all represented here. Find out which ten men earned the most after the jump.
1. Tyler Perry ($130 million)
2. Jerry Bruckheimer ($113 million)
3. Steven Spielberg ($107 million)
4. Elton John ($100 million)
5. Simon Cowell ($90 million)
6. James Patterson ($84 million)
7. Dr. Phil McGraw ($80 million)
8. Leonardo DiCaprio ($77 million)
9. Howard Stern ($76 million)
10. Tiger Woods ($75 million)
The figures next to the entertainers' names represent Forbes' estimates of their total earnings between May 2010 and May 2011. Although the article doesn't say specifically, it's probably reasonable to assume that like the top earning actors list, the top entertainers list reflects gross pretax income and does not deduct fees paid to management, agents, attorneys, etc.
Not surprisingly, most of the top entertainers are veterans in their industry who've been around for a while. In that light, it's really rather remarkable that Perry's dominating the list. Perry's been working in theater since the '90s, but it wasn't until the mid-'00s that films like Diary of a Mad Black Woman and Why Did I Get Married? made him a household name.
Of course, that's not to say he hasn't earned his success. Whether you love his films or hate them, there's no denying that he's one of the hardest working men in showbiz — he acts as director, writer, producer, and star in most of his films. Much has been made of the unconventional route he's taken through the Hollywood ranks, but it seems his ability to think outside the box is paying off very handsomely indeed.
However, Perry's real secret may not be all that different from that of all the other people on the list. Each of these men has gotten where he has by demonstrating an unusually sharp insight into what really connects with his audience.
Discuss: Which, if any, of the names surprised you the most? I had no idea Tiger Woods was still making that much money — or that the top earning athlete would be a golf player.