VOTD: '50 Animated Spoilers In 3 Minutes'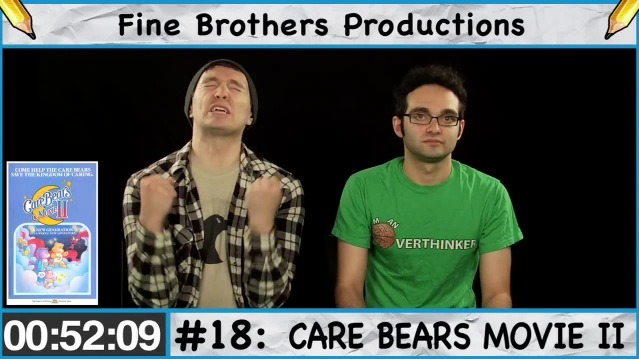 The endearingly geeky, impressively fast-talking Fine Brothers are at it again. The same guys who managed to sum up nearly five decades of Doctor Who in six minutes and every single Best Picture winner through 2009 in five minutes have now released "50 Animated Spoilers in 3 Minutes." (Spoiler alert: They actually make it in two minutes and thirty seconds. But I guess "50 Animated Spoilers in 2 Minutes and 30 Seconds" just doesn't have the same ring to it.)
The Fines don't discriminate when it comes to ruining endings — the video touches upon everything from enduring childhood classics like An American Tail and adult-oriented favorites like South Park: Bigger, Longer & Uncut to long-forgotten endeavors like Fluppy Dogs. Watch the video after the jump.
If you're wondering why no Disney classics were included in "50 Animated Spoilers," it's because the Fine Brothers have already put out a whole other video containing "50 Disney Spoilers in 3 Minutes." In fact, both are part of an ongoing series of spoiler videos, many of which we've featured here before. Other previous installments include "50 Movies Spoilers of 2010," "50 Book Spoilers in 4 Minutes," and "50 Nintendo Spilers in 2 Minutes."
Here's a list of every movie mentioned in this video, in case you actually don't want to be spoiled for any of these:
Toy Story
Toy Story 2
A Bug's Life
Monsters Inc.
Finding Nemo
The Incredibles
Cars
Cars 2
Ratatouille
Wall-E
Rio
The Hobbit
Fluppy Dogs
The Flight of Dragons
The Land Before Time
The Care Bears Movie
Care Bears Movie II
Rainbow Brite and the Star Stealer
Shrek
Shrek 2
Shrek 3
Rango
Rock-A-Doodle
All Dogs Go to Heaven
All Dogs Go to Heaven 2
An American Tail
An American Tail: Fievel Goes West
Anastasia
Thumbelina
The Pebble and the Penguin
Titan A.E.
Gnomeo & Juliet
Kung Fu Panda
Kung Fu Panda 2
Happy Feet
Madagascar
Madagascar: Escape 2 Africa
Ice Age
Beavis and Butt-Head Do America
My Little Pony: The Movie
The Chipmunk Adventure
The Transformers: The Movie
The Secret of NIMH
The Last Unicorn
Pound Puppies and the Legend of Big Paw
The Iron Giant
South Park: Bigger, Longer & Uncut
The Prince of Egypt