Steve Carell Out Of 'The Muppets'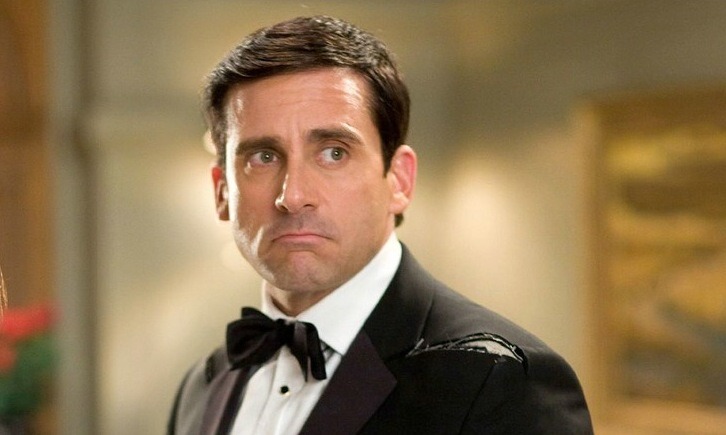 Now that we have a pretty good idea of who and what will be in The Muppets, we have some disappointing news about who won't be: Steve Carell. The actor was originally lined up for a cameo, but has since had to pull out due to scheduling issues. More details, including a description of what Carell would've been doing, after the jump.
The scene would've appeared in featured Carell (as himself) and several other celebrities at Mc Chow's restaurant, where they get presented with a serving of a still-very-much-alive Pepe the King Prawn.
There's no need to feel too bad for The Muppets, though. Carell may be out, but Zach Galifianakis, Alan Arkin, Wanda Sykes, Billy Crystal, Kathy Griffin, Ricky Gervais, Emily Blunt, Mickey Rooney, Mila Kunis, Dave Grohl, John Krasinski, and Jack Black (who was set to appear in the aforementioned scene) are among the long, long list of Hollywood notables who are still in. Not to mention stars Jason Segel, Amy Adams, Chris Cooper, and Rashida Jones, of course.
Directed by James Bobin from a script by Segel and Nicholas Stoller, The Muppets will hit theaters November 23, 2011.
Synopsis:
On vacation in Los Angeles, Walter, the world's biggest Muppet fan, and his friends Gary (Jason Segel) and Mary (Amy Adams) from Smalltown, USA, discover the nefarious plan of oilman Tex Richman (Chris Cooper) to raze the Muppet Theater and drill for the oil recently discovered beneath the Muppets' former stomping grounds. To stage The Greatest Muppet Telethon Ever and raise the $10 million needed to save the theater, Walter, Mary and Gary help Kermit reunite the Muppets, who have all gone their separate ways: Fozzie now performs with a Reno casino tribute band called the Moopets, Miss Piggy is a plus-size fashion editor at Vogue Paris, Animal is in a Santa Barbara clinic for anger management, and Gonzo is a high-powered plumbing magnate. With secret, signature, celebrity cameos, "The Muppets" hits the big screen Nov. 23, 2011.