'Ghostbusters' To Get Theatrical Rerelease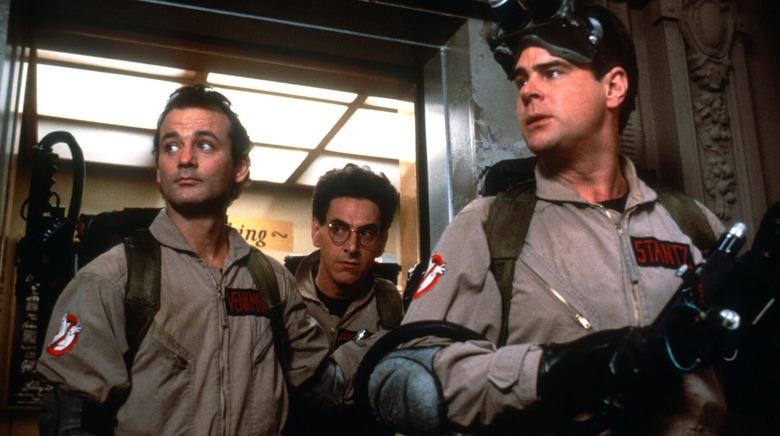 As we look forward to the most anticipated movies of the fall season, one very exciting release has unexpectedly popped up. The official Ghostbusters Facebook page has just announced that the sci-fi comedy classic is set to return to theaters this October for a rerelease. Read on after the jump.
Alright, Ghostbusters fans. It's time to get your cats and dogs together and prepare for mass hysteria: This October, for the first time in over 25 years, the original and unforgettable Ghostbusters makes its triumphant return to theaters!
As Ain't It Cool News points out, the rerelease is likely a way for the studio to assess public interest in Ghostbusters as they continue trying to put together Ghostbusters 3. A third Ghostbusters movie has been in development for quite some time now, but has yet to get off the ground. (Reports and rumors often point to star Bill Murray's disinterest in reprising his role as one of the hold-ups.) Last month, Dan Akroyd confirmed yet again that yup, Ghostbusters 3 is still in the works:
Yes, we will be doing the movie and hopefully with Mr. Murray. That is our hope. We have an excellent script. What we have to remember is that 'Ghostbusters' is bigger than any one component, although Billy was absolutely the lead and contributive to it in a massive way, as was the director and Harold [Ramis], myself and Sigourney [Weaver]. The concept is much bigger than an individual role and the promise of 'Ghostbusters 3? is that we get to hand the equipment and the franchise down to new blood.
To be honest, I'm way more excited about the rerelease than I am about the theoretical sequel — Ghostbusters 3 may be unexpectedly awesome or it may just be a disappointing cash grab, but I already know I like the original Ghostbusters. I've never seen Ghostbusters on a big screen, and it seems like a classic that'd play particularly well to a large crowd.
Here's the trailer for the original: