'IT Crowd' Star Richard Ayoade Joins 'Neighborhood Watch'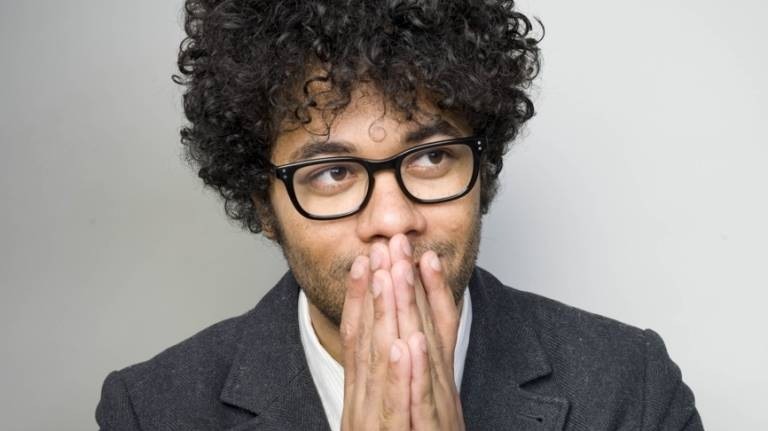 As much as I enjoyed Submarine, I'm thrilled to see that director Richard Ayoade hasn't decided to forsake his acting career completely. Ayoade is probably best known for his turn as painfully awkward computer tech Moss in the Brit comedy series The IT Crowd, where he proves to be a warm, uniquely hilarious presence from episode to episode. Now Ayoade is set to bring his brand of funny to the States in Akiva Schaffer's sci-fi action comedy Neighborhood Watch, where he'll star alongside Vince Vaughn, Jonah Hill, Ben Stiller, Rosemarie DeWitt, and Nicholas Braun. More details after the jump.
Neighborhood Watch has been in development for quite some time, but has finally started to come together in recent months with a freshly rewritten script by Seth Rogen and Evan Goldberg and a solid comedic cast. Stiller, Vaughn, and Hill are all actors who've created some duds in the past, but who can be very funny when they're on their A-game. Though I'm disappointed we won't be seeing Tucker make his comeback here, Ayoade strikes me as an excellent addition to the cast.
Though Ayoade's only been working in film and television for about the past decade, he's already made quite an impression appearing on shows like The Mighty Boosh and the aforementioned The IT Crowd. Over the past couple of years, he's begun racking up experience behind the camera as well, with the well-reviewed Submarine and Season 2 episode of Community ("Critical Film Studies," a.k.a. the Pulp Fiction / Dinner with Andre episode). He's now poised to direct Jesse Eisenberg in the Fyodor Dostoyevsky adaptation The Double. The fact that he seems to be doing quite well for himself as a filmmaker makes me all the happier that he plans to continue his work in front of the camera.
Ayoade isn't the only IT Crowd star who's making waves in the U.S. at the present. Chris O'Dowd, who plays Moss' hapless co-worker Roy, made a big impression Stateside this spring playing Kristen Wiig's love interest in Bridesmaids, and will next appear in Friends with Kids and the untitled Knocked Up follow-up. Now, if only we could find a way to get Katherine Parkinson — who plays Moss and Roy's ditzy boss Jen — to break into Hollywood...
Here's an Ayoade-centric clip from The IT Crowd, in hopes that it'll inpsire you to check out the show: