Casting Bits: Stanley Tucci And Chris Cooper In 'The Company You Keep', Nicholas Braun In 'Neighborhood Watch', Kerry Bishé In 'Argo'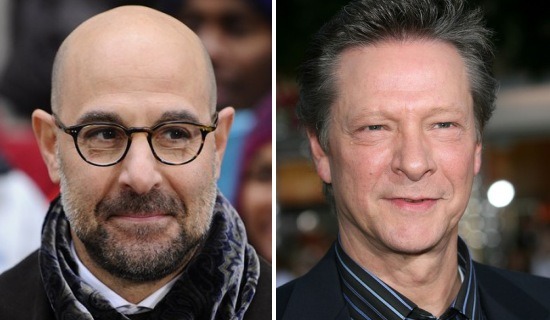 Stanley Tucci and Chris Cooper have become the latest additions to Robert Redford's The Company You Keep, a thriller based on the novel by Neil Gordon. The film boasts quite a strong cast already — Julie Christie, Susan Sarandon, Nick Nolte, Brit Marling, Shia LaBeouf, and Redford himself are all set to star as well. The script, by Lem Dobbs, centers around a former Weather Underground member (Redford) who's forced to go on the run when a determined reporter (LaBeouf) exposes his identity.
Tucci will take the part of LaBeouf's editor. Cooper plays the brother of Redford's character, who cares for his niece (Marling, perhaps) when her father disappears. [The Playlist]
After the jump, two Red State stars get very different roles: Nicholas Braun signs on for the sci-fi action comedy Neighborhood Watch, while Kerry Bishé gets deadly serious in Argo.
We already know that Vaughn, Stiller, Tucker, and DeWitt will play area parents, and that Hill will be Vaughn's sidekick. It's not clear who Braun will be playing. Although Braun is 23, he still looks young enough that he's still playing teens in films like Red State and the upcoming Gay Dude, so he's probably not one of the dads. Maybe he's one of the neighborhood kids? Or an alien? Or a neighborhood kid who's secretly an alien? Now I'm just making stuff up. [Variety]
Ben Affleck's Argo has just added Kerry Bishé to its talented cast, which already includes Affleck, John Goodman, Bryan Cranston, Kyle Chandler, Alan Arkin, and many others. The film is based on real-life events from the 1979 Iran Hostage Crisis, during which the CIA devised a plan to smuggle U.S. diplomats out of Tehran by posing as a film crew scouting locations for a fake movie project called Argo. Bishe will play Kathy Stafford, an operative who pretends to be the film's set designer.
Though Bishé isn't as well known as some of her co-stars, I absolutely loved her in the final season of Scrubs, and look forward to good things from her. Argo is currently shooting in Los Angeles. [The Hollywood Reporter]