A 'Book Of Mormon' Movie Is Coming... Eventually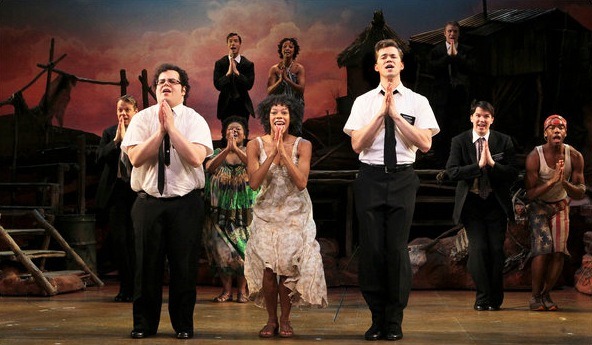 When The Book of Mormon opened on Broadway this year, it was one of the most highly anticipated musicals in recent memory. The combination of South Park creators Trey Parker and Matt Stone and Avenue Q co-writer Robert Lopez guaranteed a sharp, irreverent sense of humor, with Lopez' involvement suggesting strong musical numbers as well. And when the show finally opened, it managed to exceed those sky-high expectations, raking in nine awards including Best Musical at this year's Tonys.
So it should come as no huge surprise that Hollywood vets Parker and Stone are already planning a big-screen adaptation of their hit production, though fans may be disappointed to learn that the movie version is still a ways off. Read more after the jump.
It makes sense that Parker and Stone would want to put off doing the movie for a while, lest the movie version discourage would-be theatergoers from shelling out for the stage show. Besides, it's not as if Parker and Stone don't have plenty to keep them busy already. The two are currently at work on the 15th season of South Park, set to pick up again October 5 after a six-month hiatus.
If and when the Book of Mormon adaptation gets off the ground, you can probably expect it to be pretty faithful to the original, since it'll have the same team behind it. "The great thing is, a lot of Broadway teams would have to go team up with a Hollywood producer and bring on a Hollywood director, but Trey's a director and Scott [Rudin, who also produced the stage show] is a great producer," Stone said. "We've all made movies. So it's kind of cool, it can stay in the same family."
Currently starring Josh Gad, Andrew Rannells, and Nikki M. James, the musical revolves around a pair of Mormon missionaries (Gad and Rannells) who find themselves out of their depth when they're sent to do God's work in Uganda. Having caught the show earlier this year, I'd say Book of Mormon would absolutely translate well to the silver screen. Here's one of the numbers, "I Believe," from a performance at this year's Tony Awards: