Casting Bits: Nick Nolte And Tom Waits May Take 'The Low Road', Peter Bogdanovich Joins 'Super 8' Star In 'The Healer', Colin Salmon Seeks 'Retribution'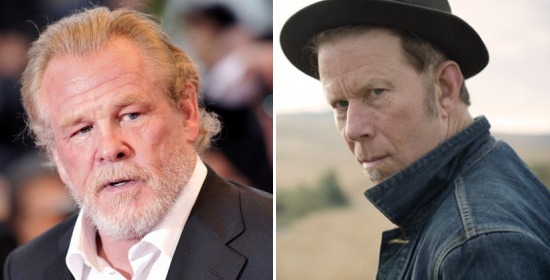 Chris Maybach has been enjoying excellent buzz for producing Sundance favorite Martha Marcy May Marlene, but don't think he's been resting on his laurels. Maybach has two more films in post-production — Sean Baker's Starlet and Andrew Dosunmu's Mother of George — and is in the process of casting yet another project, which he will direct himself.
The new drama, titled The Low Road, follows a young drifter who returns to his hometown and gets wrapped up in a conflict involving two old men on the verge of losing their farm. Maybach told Screen Daily that he has put out offers to Nick Nolte and Tom Waits for the parts of the two older men, though as The Playlist points out, the $1 million budget means that getting both actors may be a bit of a stretch. (Waits has done a song called 'Lowside of the Road,' though, so that's one more reason to think of him for the role.) The film is scheduled to begin shooting in late 2011 or early 2012.
After the jump, Peter Bogdanovich signs on for a supernatural thriller with Super 8 star Joel Courtney, and Colin Salmon looks for Retributon.
Casting for Resident Evil: Retribution has been slowly filling up over the past month or so, and now comes news that another familiar face is set to return to the franchise along with Milla Jovovich and Sienna Guillory. Colin Salmon, who appeared in the first Resident Evil as One, has announced via Twitter that he will appear in the new film. "Confirmed I will be shooting new Resident Evil movie. Paul Anderson has written an amazing script," he wrote.
Salmon has not revealed whether he would be reprising the same role, or playing a different character. The project began shooting in Toronto this month, and will hit theaters September 14, 2012. [Coming Soon]