Nikolaj Coster-Waldau From 'Game Of Thrones' Joins Jessica Chastain In Supernatural Horror 'Mama'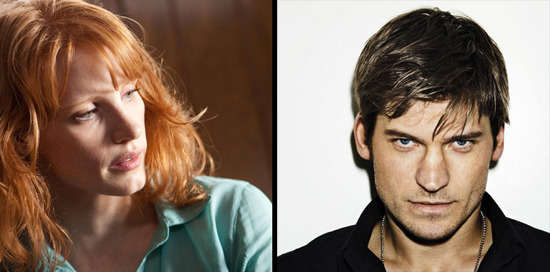 Jessica Chastain seems to be all over the place this fall. She made her debut this summer in Terrence Malick's The Tree of Life, and is on screens now or soon in The Help, The Debt, Take Shelter, Coriolanus, Wilde Salome and Texas Killing Fields. Quite a lineup for an actress that no one could have identified a year or two ago.
She's still booking new roles, too. One of her most recently announced gigs is Mama, a feature-length expansion of a short film by Andres Muschietti, who wrote and directed the short. And now Chastain will be joined by Nikolaj Coster-Waldau, who plays Jaime Lannister in Game of Thrones. Guillermo del Toro is producing the film.
THR announced the casting, saying that the film has Chastain and Coster-Waldau playing a couple "who take in their long-lost young nieces and nephews. The kids were found after living in the forest for five years but now murderous events begin to unfold and it becomes clear that a supernatural force is intent on claiming the kids."
A couple weeks back, Jessica Chastain gave a brief red carpet quote to Vulture about the movie:
It's really scary! It's like The Ring, or The Orphanage. I'm the biggest chicken ever, and I'm really excited to tackle that genre. I'm going to be a little punk rock, Annabelle is a little punky, definitely more punky than Jessica Chastain!
Here's the short on which the feature will be based. I can't say I'm wild about it, as there's just not a lot there. It's really one simple idea. And if the J-horror leanings aren't taken too far in the feature version, it might work a lot better. I wonder, too, if the feature is really a remake or more of a continuation of the story seen here.