'The Muppets' Image Gallery, Detailed Character Descriptions, And Fun Facts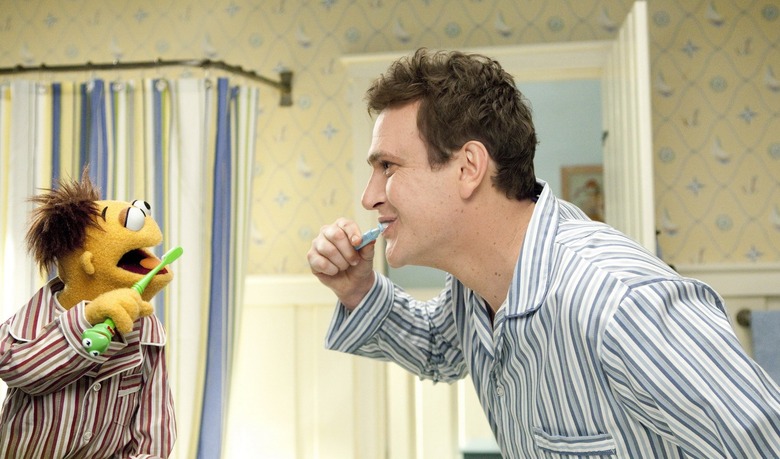 If you're looking forward to The Muppets as much as I am — and really, who isn't excited about this film? — this post will definitely put a smile on your face. Over the weekend, Disney released a slew of new tidbits about the upcoming film, including character descriptions, hi-res promo pics, stills, and trivia bits.
Directed by James Bobin (The Flight of the Conchords) and starring Jason Segel, Amy Adams, Chris Cooper, and just about every Muppet you can think of, the film follows Gary (Segel) and his brother Walter (a brand-new puppet created for the film) as they journey to Los Angeles and work with the Muppets to save the Muppet Theater from devious oil baron Tex Richman (Cooper). Check out images and details after the jump.
GARY (Jason Segel) is loyal to his brother Walter—the two do everything together. "Gary is from Smalltown, USA," says Jason Segel, a longtime Muppet fan who created the role with himself in mind. "He's very naïve, sweet and innocent, and he's very much in love with his girlfriend Mary. He's torn between his brother and growing into a new phase of maturation where it's time to be with his girlfriend. He's lived with his brother forever so that is his big struggle."
With his Kermit t-shirt and watch, WALTER (Walter) is a devoted fan of the Muppets. The lifelong resident of Smalltown, USA, dreams of meeting his heroes one day, and feels that — just maybe — he belongs with them. So when brother Gary and his girlfriend Mary plan a trip to Los Angeles, Walter joins them with hopes of realizing his dream once and for all.
With the help of Gary and Mary, it's Walter who sets the plan in motion to reunite the Muppets and save the studio. His pure-hearted enthusiasm for all things Muppets just might save more than the studio, too.
MARY (Amy Adams) is a valued shop teacher in Smalltown, USA — at least if the number of apples on her desk are any indication. She is Gary's longtime girlfriend who often finds herself playing third wheel to Gary and his brother Walter.
Mary shares Gary and Walter's sweet, innocent disposition, but she's growing weary of sharing her boyfriend with Walter. She can't help but hope for a magical proposal during their Los Angeles vacation, but her plans are derailed when news of Muppet Studios' pending demise spur the trio into expressly non-marriage-proposal action.
KERMIT THE FROG (Kermit the Frog) lives a quiet, solitary life. It's been a few years since the Muppets last performed together and Kermit doesn't realize how much he misses his friends until he's tracked down by Walter, Gary and Mary from Smalltown, USA, and convinced to reunite with the rest of the Muppets to save Muppet Studios.TEX RICHMAN (Chris Cooper) is a rich oil baron who's concocted a devious plan to destroy Muppet Studios, presumably to dig for the oil he claims is underneath.
But Tex Richman's inability to laugh doesn't stop him from taking part in other Muppet antics. He may be cold-hearted and conniving, but this oil magnate has a few secrets up his sleeve that are more fun than fiendish.
MISS PIGGY (Miss Piggy) showcases her diva attitude and big personality in a new made-to-order gig in Disney's The Muppets. As plus-size editor of Vogue Paris, she shares her sublime fashion sensibilities with readers worldwide... at least until Kermit shows up.FOZZIE BEAR (Fozzie Bear) lives to make people laugh. So during the Muppets' extended hiatus depicted in Disney's The Muppets, the stand-up comic bear was determined to keep his act and the spirit of the Muppets alive — even if it meant joining up with a Reno casino tribute band called the Moopets. Imitation is the sincerest form of flattery, and the Moopets may be sincere, but they're also a little creepy.VERONICA (Rashida Jones) is a network executive called on by the Muppets to air their studio-saving telethon. She's not easily swayed, and it'll take a big-name star to seal the deal.
It won't be easy, but hopefully, Kermit can charm Veronica like he charms every woman, network exec and diva pig he encounters.
GONZO THE GREAT (The Great Gonzo) has been very busy since the Muppets last performed. In Disney's The Muppets, Kermit, Walter and the gang find that Gonzo's career is down the drain — literally. "I play a plumbing magnate," says the daredevil who returns to the role he singlehandedly made famous. "In this movie, we see what happens when I pursue plumbing — my original career choice. Actually, show business and plumbing have a lot in common — especially when it comes to clogs and snakes."
Fortunately, Gonzo (The Muppets Take Manhattan, TV's "The Muppet Show"), a pioneer of all things weird, can't resist the temptation of the wild and wacky stunts he performs to earn the eternal admiration (not to mention shock and awe) of his audience — and one very special chicken named Camilla.
ANIMAL (Animal), the ultimate rock n' roll survivor, finally addresses a troublesome personality trait and finds himself in an anger management program in Disney's The Muppets. He's traded in his drums for a flute and is struggling to redefine his identity. As if...
And now, some photos. Click to enlarge:
Finally, some nifty facts via Stitch Kingdom:
More than 120 Muppets appear in the film.
A total of 12 different costumes were made for Miss Piggy—more costume changes than any other actor in the film.
The largest Muppet, Thog, stands over 9.5 feet tall and is 4 feet wide.
Miss Piggy had shoes made for her by Christian Louboutin and a dress by Zac Posen, which she wears in the finale scene.
Kermit had a suit made for him by Brooks Brothers for the scene where he walks through the streets of Paris with Miss Piggy.
Kermit uses the banjo from 1979's The Muppet Movie during the "Rainbow Connection" performance in Disney's The Muppets. The staging of the scene features Kermit on a replica of the log where he was first found strumming his banjo in the very first Muppet movie. Miss Piggy shows up in a rowboat very much like the one the late Dom DeLuise used when he joined Kermit in their sweet duet.
The Muppet Theater, built on Stage 28 on the Universal Studios Lot, incorporated parts of the old Phantom of the Opera set into its audience section. The Jim Henson Company gate was turned into the Muppet Studios entrance.
Read more trivia at Stitch Kingdom.
The Muppets will hit theaters November 23, 2011.