Exclusive Images And Storyboards From The Malaysian Kickboxing Film 'Bunohan'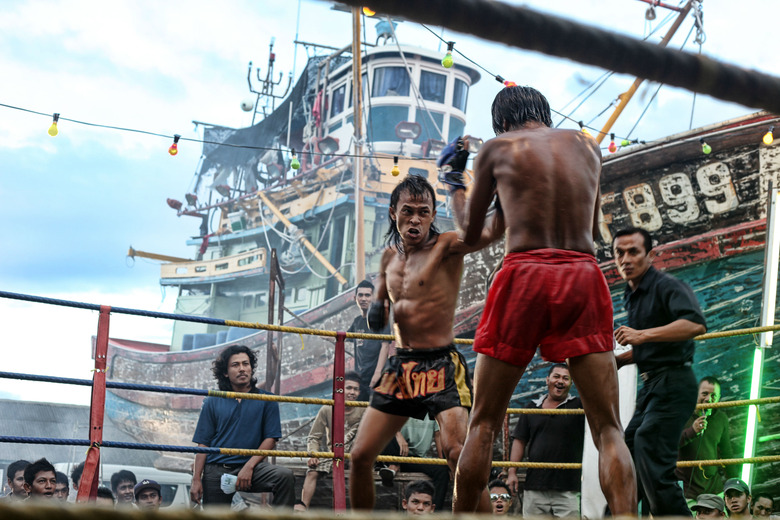 Ghosts, kickboxing, Shakespeare and sibling rivalry are all at the center of Bunohan, a Malaysian film that had its world premiere at the Toronto Film Festival over the weekend and have its U.S. premiere at Fantastic Fest later this month. Written and directed by Dain Said, Bunohan (also called Return to Murder) is the story of how three brothers, each with a murderous profession, flee their home country and family only to find themselves back together in the titular small border town where they're forced to deal with their pasts.
/Film is excited to premiere a bunch of exclusive stills from the film as well as some bad ass storyboards. Check those out, as well as the trailer and more, after the jump.
Here's the trailer for Bunohan.
And here are the exclusive images and storyboards from the film. You definitely get the sense of the violence and energy in the film.
Finally, this is the plot description.
Set in a border town in northeastern Malaysia of the same name, BUNOHAN tells the powerful story of three estranged brothers – Adil, Bakar and Ilham – and their ailing father, whose fates become tragically intertwined in a web of deceit and corruption. After fleeing a deathmatch in Thailand, Adil the kickboxer is on the run from Ilham the hitman. The chase brings them to Bunohan, where they crash into the shady schemes of the ambitious businessman, Bakar. The trio's unlikely homecoming brings to light the past of Pok Eng the patriarch, whose secrets will unravel the lives of all. Each man's unfulfilled struggle for reconciliation and forgiveness leads to the violence of loss, betrayal, corruption and murder.
With the film playing both Toronto and Fantastic Fest, we'll almost certainly see it soon and post a review for you all to read. For now though, Variety has a pretty great one. Here's a sample: "The border-hopping Malaysian plotline defies pigeonholing — it's a fight film with echoes of "King Lear," and a ghost story about living people who occupy the edge of existence. Specialty bookers could well be turned off by the brutal violence, but a dose of visceral horror is well worth the trip to 'Bunohan.'"