'Tinker Tailor Soldier Spy' US Trailer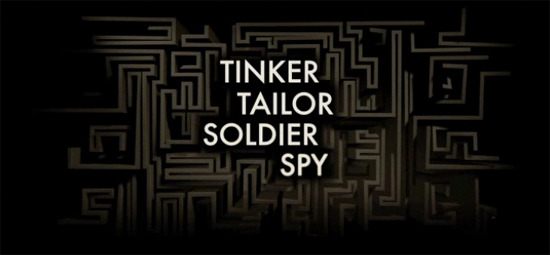 We've seen a couple international trailers for Tinker Tailor Soldier Spy, as the film opens this week in the UK. It won't hit the US until December 9, and so we've only just been given a US trailer. But the upshot of waiting is that this trailer features some footage you might not yet have seen, much of which focuses on Tom Hardy's character. Looks like Universal is responding to increasing interest in the actor, based in part upon the fact that he's playing Bane in The Dark Knight Rises.
Regardless, Tomas Alfredson's follow-up to Let the Right One In still looks as good as some of the early reviews suggest it will be. This trailer for the adaptation of John le Carré's jargon-laced cold war novel shows off a great many members of the stellar cast, which also features Gary Oldman, Colin Firth, Mark Strong, Benedict Cumberbatch, Ciaran Hinds, Mark Strong, Svetlana Khodchenko, Toby Jones, John Hurt, Stephen Graham and Kathy Burke.
Yahoo has the HD feed, and a book-length synopsis that makes me wonder if Universal is feeling slightly paranoid about the film's chance for Stateside success.
The time is 1973. The Cold War of the mid-20th Century continues to damage international relations. Britain's Secret Intelligence Service (SIS), a.k.a. MI6 and code-named the Circus, is striving to keep pace with other countries' espionage efforts and to keep the U.K. secure. The head of the Circus, known as Control, personally sends dedicated operative Jim Prideaux into Hungary. But Jim's mission goes bloodily awry, and Control is forced out of the Circus – as is his top lieutenant, George Smiley, a career spy with razor-sharp senses.
Estranged from his absent wife Ann, Smiley is soon called in to see undersecretary Oliver Lacon; he is to be rehired in secret at the government's behest, as there is a gnawing fear that the Circus has long been compromised by a double agent, or mole, working for the Soviets and jeopardizing England. Supported by younger agent Peter Guillam, Smiley parses Circus activities past and present. In trying to track and identify the mole, Smiley is haunted by his decades-earlier interaction with the shadowy Russian spy master Karla.
The mole's trail remains cold until maverick field agent Ricki Tarr unexpectedly contacts Lacon. While undercover in Turkey, Ricki has fallen for a betrayed married woman, Irina, who claims to possess crucial intelligence. Separately, Smiley learns that Control narrowed down the list of mole suspects to five men. They are the ambitious Percy Alleline, whom he had code-named Tinker; suavely confident Bill Haydon, dubbed Tailor; stalwart Roy Bland, called Soldier; officious Toby Esterhase, dubbed Poor Man; and – Smiley himself.
Even before the startling truth is revealed, the emotional and physical tolls on the players enmeshed in the deadly international spy game will escalate...