'Extraterrestrial' Teaser Trailer - Nacho Vigalondo's Follow Up To 'Timecrimes'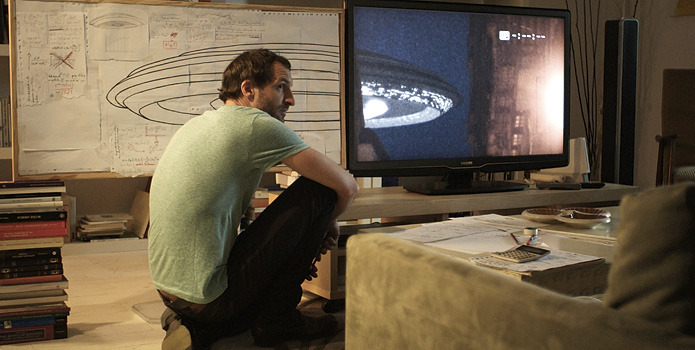 You've just met the girl of your dreams. It seems like your life is finally looking up. Just then...aliens invade. That's the set up of Extraterrestrial, Spanish filmmaker Nacho Vigalondo's follow-up to the amazing Timecrimes, which will have its world premiere at the Toronto International Film Festival followed by its United States premiere at Fantastic Fest. With those screenings in the coming days, the verdict is on the way as to whether or not Vigalondo's film lives up to the promise of his first feature. For now, check out the teaser trailer for the film to see what we're in store for.
Thanks to El Cultural (via Bleeding Cool) for the heads up to this trailer. Unfortunately for us who don't speak or read Spanish, the trailer is in its native language without subtitles. If you know the basic plot of the film, though, you can pretty much piece everything together. Check it out.
The combination of sci-fi, romance and pending doom really has me excited for this one. What about you?
If you'd like to know more about Extraterrestrial, check out our previous stories and keep checking back for reviews.
Here's the TIFF description of the film:
Nacho Vigalondo has already captivated audiences by blending genres in his relent­lessly inventive debut feature, Timecrimes. For his follow-up Extraterrestrial, an inge­nious take on the alien-invasion film, Vigalondo skilfully merges science fiction and romantic comedy — along with a wicked streak of gallows humour — to shed light on some of the less convivial elements of human behaviour.
Strangers Julio (Julián Villagrán) and Julia (Michelle Jenner) wake up beside one another in Julia's apartment, groggy, hun­gover and unsure how they met. Julia is about to send Julio on his way when both notice the uncanny silence gripping Julia's downtown neighbourhood. Looking out the window, they see Madrid's skyline dot­ted with enormous spaceships. The only other person left in the building is Julia's fawning and somewhat creepy neighbour, Ángel (Carlos Areces), who explains that there's been an exodus of people flee­ing the city. When Julia's boyfriend Tipo (Miguel Noguera) shows up — having now shifted into survivalist mode — the dynam­ics between the four reach heady extremes. Attempting to hide their apparent one-night stand, Julia and Julio convince Tipo that Ángel is an alien and must be ejected.
As the narrative unfolds, the spaceships maintain their immobile, sphinx-like pres­ence. The only television station still on the air reports that there are similar space-crafts stationed in cities around the world; none have made any attempts at contact.
Meanwhile, as the claustrophobic atmo­sphere in the apartment increases, decisions are made about who stays, who goes and who gets the girl.
Vigalondo brilliantly utilizes the confined space of Julia's apartment as a container for this novel drama about love, jealousy, betrayal and redemption — a drama that effortlessly doubles as an offbeat comedy unburdened by gratuitous special effects. Quirky and pro­found, Extraterrestrial expounds on natures both human and imaginary.