'A Very Harold & Kumar 3D Christmas' Gets Four New Posters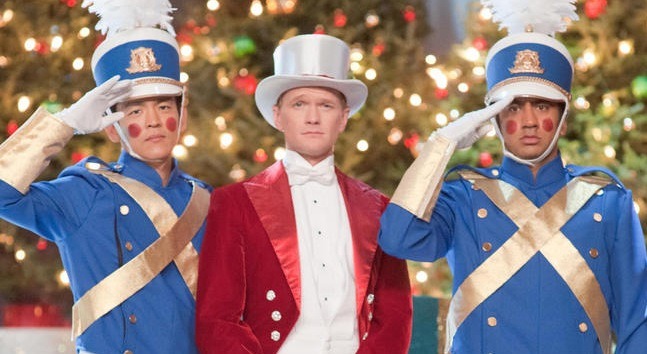 It seems like the holidays creep up a bit earlier each year, doesn't it? I started seeing Thanksgiving cards on drugstore shelves sometime around the middle of August, so now that we're past Labor Day I suppose it's about time we started thinking about Christmas. Four new posters have been released for A Very Harold & Kumar 3D Christmas, showing off such holiday-appropriate imagery as an apparently dead Santa, Kumar's gift-wrapped crotch, and... some kind of robot servant holding a stack of French toast that's caught on fire? I don't even know. Check them out after the jump.
[via Cinema Blend]
Written by Harold & Kumar creators Jon Hurwitz and Hayden Schlossberg, A Very Harold & Kumar 3D Christmas finds the beleaguered stoner duo six years older and no longer quite as close as they once were. But when Kumar (Kal Penn) accidentally burns down Harold's (John Cho) father-in-law's Christmas tree, the two find themselves on yet another epic, hopefully hilarious adventure. Tom Lennon, Danny Trejo, Patton Oswalt, Paula Garces, and Daneel Harris also star, with Neil Patrick Harris reprising the role of Neil Patrick Harris. In keeping with the trend of holidays gearing up earlier and earlier (or "coming prematurely," as the poster puts it), A Very Harold & Kumar 3D Christmas will be hitting theaters November 4. Check out the trailer here.
Synopsis:
The new "Harold & Kumar" comedy picks up six years after the duo's last adventure. After years of growing apart, Harold Lee (John Cho) and Kumar Patel (Kal Penn) have replaced each other with new best friends and are preparing for their respective Christmas celebrations. But when a mysterious package arrives at Kumar's door, his attempt to deliver it to Harold's house ends with him inadvertently burning down Harold's father-in-law's prize Christmas tree. With his in-laws out of the house for less than a day, Harold decides to cover his tracks rather than come clean, and reluctantly embarks on another ill-advised but hilarious journey with Kumar, taking them through New York City on Christmas Eve in search of the perfect Christmas tree.