Superhero Bits: The Dark Knight Rises, X-Men First Class, Hellfire Club, Marion Cotillard
[No photo]
Did you miss Dark Knight Rises set videos and photos, like the one above? Who is the latest cast member of Christopher Nolan's film? Is Marion Cotillard lying to us about her role in it? Which corner of the X-Men universe almost got its own movie? Are producers concerned about fan reaction to the pantless suit in Man of Steel? Can we be sure the actors in The Avengers having fun? We've got a ton of Dark Knight Rises set stuff, answers to all the other questions and more in today's Superhero Bits. Spoilers are clearly marked.
Marion Cotillard told MTV News that her character in The Dark Knight Rises is NOT from the comic books. That's rules out Talia Al Ghul. Seems like she's lying, and Josh calls her out on it. Watch the video.
Producers talked to Showbiz Spy and suggested that Man of Steel filmmakers are concerned about the issues fans are having with the new suit:
The pictures of Henry on the Man of Steel shoot have certainly created a buzz about the movie but it's a little off target....All everyone's talking about his Superman's crotch and those missing pants. The new look was supposed to create new interest in a classic character but the way things are going Superman may be forced to get his pants back on. It's either that or Man of Steel could be the first R rated Superman movie!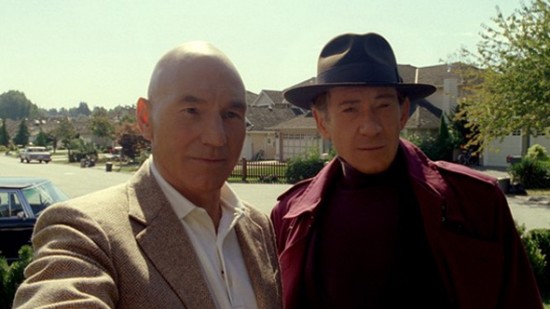 Movies.com has broken down a lot of what was said in the X-Men films and applied it to X-Men First Class to see if it fits in the timeline. And, guess what? It doesn't. A really fun read.X-Men producer Lauren Shuler Donner has been out talking about the future of the franchise and besides saying Deadpool will have nothing to do with X-Men Origins: Wolverine, she had this to say about the possibility of X-Men First Class 2. Thanks to Crave Online:
Well, if we were going to sequelize this and keep on going, we would stay in the next [time] period. Probably we'd go to the 70's.
Shuler-Donner also told Home Media Magazine she hopes Cyclops and Jean Grey would appear in that X-Men First Class sequel.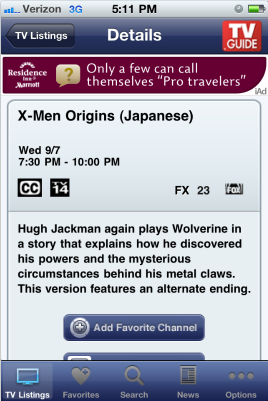 TV Guide is like us. They just don't like X:Men Origins: Wolverine. They called it "Deadpool" earlier this week and now there's this. Thanks to /Film reader David C.
The Hollywood Reporter attended an X-Men First Class Blu-ray event and spoke to several people about the film, including Lucas Till.
Due to the amount of graphics and images included in Superhero Bits, we have to split this post over THREE pages. Click the link above to continue to the second page of Superhero Bits.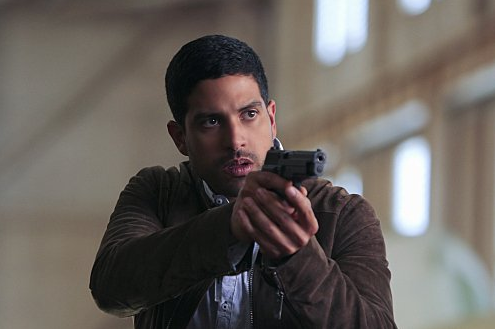 Adam Rodriguez, best known for his work on CSI Miami, is a late addition to the ensemble cast of The Dark Knight Rises. Thanks to Deadline.
Yahoo has another deleted scene from X-Men First Class. This one featuring Banshee learning to scream.
[No photo]
The Superficial has taken a bunch of New York set photos from The Avengers and added funny captions to them. All the Avengers are there and Chris Evans gets a particular beating. It's funny and obvious everyone is enjoying themselves but, if you haven't seen any Avengers stuff yet, be aware there are visual spoilers.Total Film spoke to Lauren Shuler Donner who revealed The Hellfire Club almost became its own movie. In the end, though, it just got relegated to the beginning of X-Men First Class.
Time to get a little political here in Superhero Bits. A recent Daily Show discussing Republican Presidential hopefully included a bunch of pop culture references including a Superman one. Thanks to Bleeding Cool.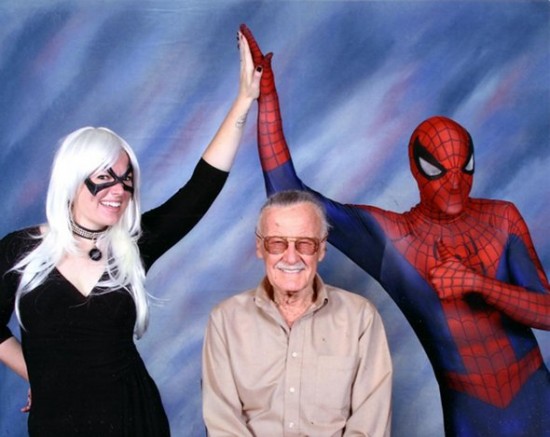 That Stan Lee will do anything. Like smile kindly when two cosplayers do a high five. Thanks to Hat Cadet (via Fashionably Geek).
The X-Men First Class Blu-ray premiere featured a pretty awesome 3D looking video playing on Hollywood Blvd. in Los Angeles. Check out the video of it above, thanks to Trailer Addict via CBM.
THE NEXT PAGE IS FILLED WITH SPOILERS, MOSTLY FOR THE DARK KNIGHT RISES, BUT ONE SMALL MAN OF STEEL ONE TOO.
Due to the amount of graphics and images included in Superhero Bits, we have to split this post over THREE pages. Click the link above to continue to the third page of Superhero Bits.
[No photo]
Here's our first look at Diane Lane as Martha Kent in Man of Steel. Again, it's obstructed but there you go. Thanks to Comic Book Movie.
YouTube user ThisIsWuDaMan took a bunch of spy videos from the set of The Dark Knight Rises. Not a lot of new stuff here, but if you watch and listen, you can hear security shoo him away in almost all of them. Pretty funny. Thanks to CBM.
[No photo]
Here's one of a brand new set of spy photos from The Dark Knight Rises (via CBM) that features Christian Bale and Joseph Gordon Levitt together in a Gotham City police car. Very curious. Click the link for closer shots.
Another Dark Knight Rises set video on Comic Book Movie shows a huge number of police and police vehicles milling around on set. The speculation is this will be a Batwing chase sequence.
[No photo]
Superhero Hype has a great report on Dark Knight Rises filming that took place Thursday night in Los Angeles. First up, is the above photo of Batman and Commissioner Gordon.
Then there's this video of a rehearsal between Christian Bale and Gary Oldman on some kind of ice structure. There's a photo of this below.
Here's a great look at the Batwing from above before it got hidden for the evening. Thanks to Superhero Hype for the last three bits.
[No photo]
Finally, here's a clear, still image, thanks to Comic Book Movie, of the Dark Knight Rises scene that's seen above.
Thanks to Perez Hilton for the top image.