Joe Eszterhas Scripting Tale Of Legendary Jewish Hero For Mel Gibson, Who May Direct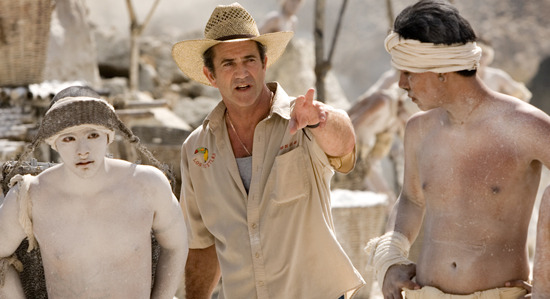 Is this an expression of genuine artistic interest, a motion of real penance, or a calculated move? Mel Gibson, a man who in 2006 told a cop "the Jews are responsible for all the wars in the world," is teaming with Showgirls writer Joe Eszterhas on a script about Jewish hero Judah Maccabee. Depending upon how that script turns out, Gibson may direct and act in the resulting film.
Variety says the two are working on the script, with Gibson first in line to direct the film for his own Icon Productions and distributor Warner Bros.
Judah Maccabee (or Judas Maccabeus, as some spellings have it) was a Kohen (priest) who led a revolt against the Seleucid Empire around 160 BCE. Or, as Variety has it, he was " a legendary Jewish warrior who, along with his father and four brothers, led a revolt against the Greek-Syrian armies that conquered Judea in the second century B.C. The feast of Hanukkah celebrates the restoration of Jewish worship at the temple in Jerusalem after Maccabee removed the pagan statuary."
If Gibson directs this would be his first film since Apocalypto in 2006, though in 2010 he acted in How I Spent My Summer Vacation, based on his own script and directed by Apocalypto assistant director Adrian Grunberg. That is reportedly finished but awaits a distribution window.
With respect to divining motive for this film, remember that after that 2006 DUI arrest during which Gibson made the remark quoted above, he made the following statement:
The tenets of what I profess to believe necessitate that I exercise charity and tolerance as a way of life. Every human being is God?s child, and if I wish to honor my God I have to honor his children. But please know from my heart that I am not an anti-Semite. I am not a bigot. Hatred of any kind goes against my faith.
I'm not just asking for forgiveness. I would like to take it one step further, and meet with leaders in the Jewish community, with whom I can have a one on one discussion to discern the appropriate path for healing.
Could this be part of that plan? (Doing more research, Gibson mentioned this as a possible bit of subject matter around the time of The Passion of the Christ, so it isn't a new idea for him.)
Joe Eszterhas makes an interesting screenwriter choice, given his own strong return to faith after a cancer scare a decade ago. He has scripted films like Betrayed and The Music Box, which deal with anti-Semitism and Holocaust issues, rendering him possibly a more appropriate choice for this than resume items like Showgirls would suggest. (Even if he's hardly the most obvious choice, or the best.)