Arclight Cinemas Expands Outside Los Angeles; Coming To San Diego Late 2012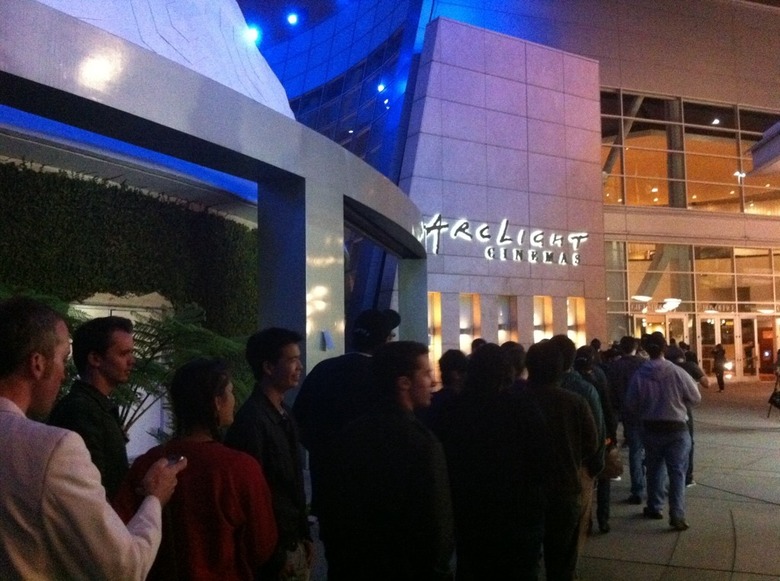 Being bi-coastal has allowed me to visit the best movie theaters America has to offer and, in those travels, my two favorite chains are the Alamo Drafthouse and Arclight Cinemas. The Alamo has amazing repertory programming, expansive in-theater dining and Mondo, among other things. If it wasn't for the fact that I'm rarely in their home state of Texas, it would be numero uno. However, because I live in Los Angeles, Arclight takes my top spot. Tickets are a little pricey but with no commercials, assigned plush seating, pre-movie introductions and a stellar rewards program, it's worth it.
Until now, only Los Angeles residents have been able to experience the wonder that is Arclight (at four locations and counting) but late next year they'll finally open their first non-Los Angeles theater... down the highway in San Diego. Find out the exact location and all the details after the jump.
The Los Angeles Times first reported the news of the new Arclight and while it's sad for the rest of the country that they're staying in Southern California, it's a positive thing to see them expand at all. Here's the press release:
Nine years after opening ArcLight Hollywood and changing the way people experience going to the movies, ArcLight Cinemas, created by Pacific Theaters, is expanding into the San Diego market.  ArcLight La Jolla, the company's first theater outside the Greater Los Angeles market and its fifth overall, represents one of the most anticipated additions to Westfield UTC.
The new 14-screen 1,800-seat cinema, which will open in late 2012, will feature ArcLight Cinema's signature amenities including "black box" auditoriums, extra-wide seats with double armrests, stadium seating, digital projection and a wide variety of dynamic programming ranging from the newest Hollywood blockbusters to independent art house fare, cult favorites and classics, and 21+ screenings.  ArcLight La Jolla will be the only theater in San Diego to operate with no commercials, all-reserved seating and no late seating after a movie has begun.
"Since 2003, our mission has been to create the ideal moviegoing experience for film lovers and casual moviegoers alike,"  said Gretchen McCourt, Executive Vice President, Cinema Programming. "Today's announcement represents a milestone for ArcLight Cinemas and we cannot wait for San Diego residents to rediscover the joy of going to the movies."
San Diego residents will delight in ArcLight's sit-down café and full service concession areas featuring quality, classic movie-theater consessions including shared plates, gourmet pizzas, salads, wraps and popcorn made with real butter as well as ArcLight's famous caramel corn, made-on-premises.
In addition, the theater will offer a membership program unlike any other, giving members $1.00 of each ticket they purchase online. All money spent online and in the theater will allow members to accumulate points for purchases at the cafe, bar, gift shop, or for tickets.
Do you have a theater near you that's like Arclight? Any San Diego residents particularly excited for this?