Superhero Bits: Man Of Steel, Dark Knight Rises, Thor, X-Men: First Class, Iron Man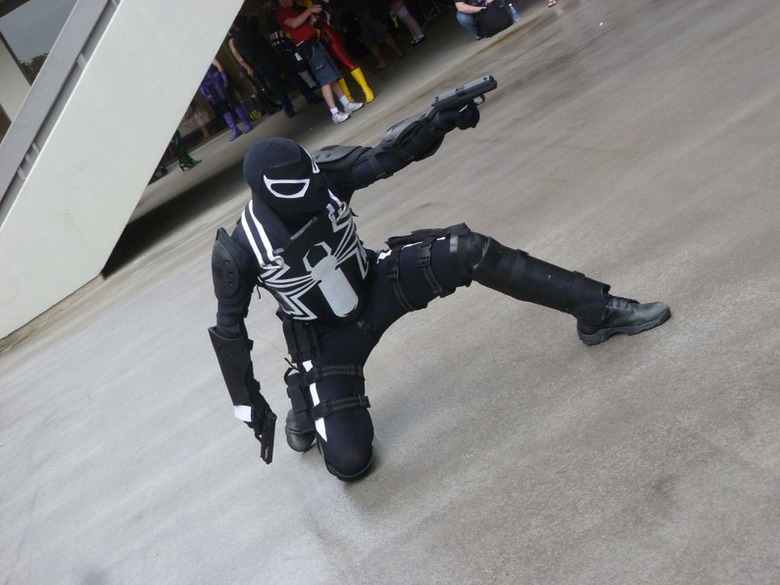 Want to watch a whole bunch of special features from the Thor and X-Men: First Class Blu-rays? Is Stan Lee a pimp? Why is Xavier's School for Gifted Youngsters a bad place to learn? What's the latest on Man of Steel shooting and who is running around, all dressed up, on the set of The Dark Knight Rises? Read about all of this and more in today's Superhero Bits.
Comic Book Movie alerts us to YouTube user jasminemaomao who has uploaded a ton, if not all, the special features from the X-Men First Class Blu-ray. Here's part one of a documentary.

Hey, even the Justice League have to get to the office. Thanks to Super Punch for showing us this cool piece of work by Dean Gorissen.
I posted this video yesterday in the Michael Shannon/Man of Steel Zod post. But he talks about more than just the costume in it, so I figured I'd post it again for those who really only read Superhero Bits. Great job by MTV.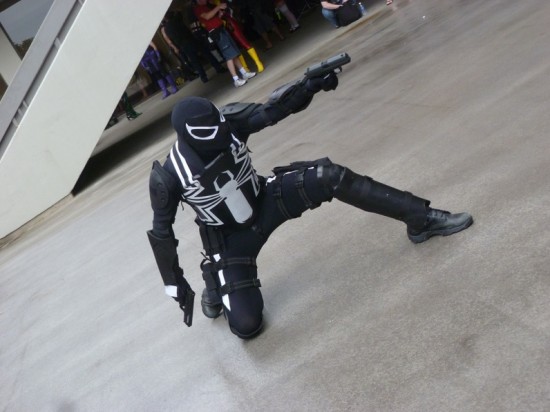 This cosplay version of Venom is way better than the Spider-Man 3 one. Thanks to Agent M.
Fashionably Geek has written up their opinion of the new Superman costume from Man of Steel.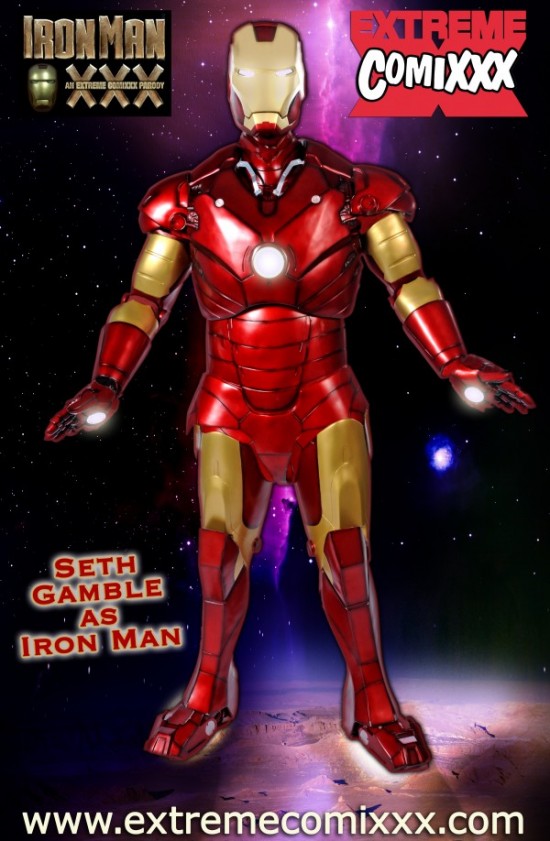 A few weeks ago we posted a trailer for Iron Man XXX, the porn version of Iron Man. Now Bleeding Cool has some character posters and, they're kind of hilarious. Just like Iron Man director Jon Favreau said in Rudy, "He's so little!" Head there for more images.
Superhero Hype has your first look at an (official) deleted scene from Thor.Collider tried their best, and failed, to get Tom Hardy to say anything about The Dark Knight Rises. Here's what he said about working with Nolan but I urge you to read the rest if you're interested in Warrior. Great movie, great interview.
Oh, I love working with Chris Nolan.  I'll do anything with him.  It is such an honor to be asked to play....to be in Batman full stop.  If I think about it and what I am actually doing then it would be so overwhelming that I would probably not be able to do the job.  So I would rather not talk about it.  It's quite a big deal actually. [laughs]  Chris and the whole crew are brilliant in their environment so you are never aware of the size of the job.
Man of Steel began shooting in Chicago for the next week and a half and Superhero Hype points us to this newscast about it.
It's safe to say we'd all love to be X-Men. But io9 has an article called "10 Reasons Why Xavier's School for Gifted Youngsters Would be a Horrible Place to be Educated." Here's one example, #7, Students Die All The Time:
It's true! Xavier's is perhaps the only school in the world where the mortality rate outstrips the graduation rate. I presume this is why everyone's forced to intern in the med lab.
Due to the amount of graphics and images included in Superhero Bits, we have to split this post over TWO pages. Click the link above to continue to the second page of Superhero Bits.
MTV has an exclusive look at a behind the scenes featurette from the Thor DVD.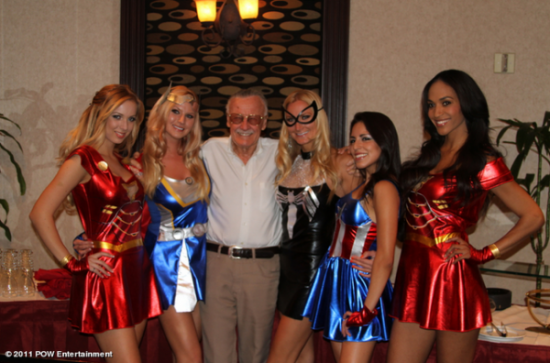 As Brody surmised in Mallrats, Stan Lee gets all the chicks. Thanks to Whosay (via Geeks are Sexy).
And here's another Thor special feature, this time on the creation of the evil King Laufey. Thanks to Movieweb.
THE REST OF THE POST IS SMALL SPOILER SET PHOTOS FROM THE DARK KNIGHT RISES AND MAN OF STEEL.
[No photo]
It's been a few days without a good spy photo, don't you agree? Well today we've got Anne Hathaway as Selina Kyle on the set of The Dark Knight Rises. Pretty pretty if you ask me. Thanks to Celebbuzz (via Comic Book Movie). Head to CBM for a few other tidbits of info and photos.
[No photo]
The Chicago Tribute (via CBM) has posted the first photo of Laurence Fishburne in Man of Steel. Or, at least, part of him. There's some more info in the article.
[No photo]
Yup, that's Christian Bale as Bruce Wayne on the set of The Dark Knight Rises. Yes that's Christopher Nolan behind him. And if you head to Just Jared (via CBM) you can see pictures of him running across the street too. Where is he running?!?!?!?!?! In all seriousness, I think it has to do with the Hathaway photos above.