Chris Tucker, Dormant No More; In Line For 'The Silver Linings Playbook' And 'Neighborhood Watch'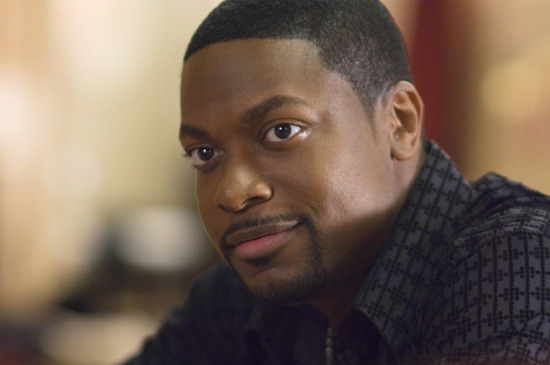 The career of Chris Tucker is an unusual one, as movie star careers go. He's got only eleven feature credits, three of which are for very small roles. He's primarily a star based on The Fifth Element and three Rush Hour movies. Because those three Rush Hour movies have earned an amount of money that will greatly sadden you (just under a billion dollars globally before licensing, DVD, etc.) he probably doesn't have to work all that much. And so he doesn't.
But now Tucker may be following up his last screen appearance, in 2007's Rush Hour 3, with roles in either David O. Russell's The Silver Linings Playbook or Akiva Schaffer's action comedy Neighborhood Watch.
Variety says that Tucker is in talks for a role in The Silver Linings Playbook, which is based on a novel by Matthew Quick. The film follows a former high school teacher (Bradley Cooper) who's just been released from a four-year stint at a mental institution into the care of his mother. He vies for the attention of his ex-wife, but ends up entangled with his eccentric neighbor (Jennifer Lawrence). Robert De Niro is set to play Cooper's father, and Chris Tucker would be "Cooper's spirited friend who lives in a mental hospital. He escapes on several occasions to visit the troubled protag, as the duo have a special understanding of each other."
Then there's Neighborhood Watch, the film in which Vince Vaughn and Ben Stiller play suburban guys whose neighborhood watch group, which is really just an excuse for bored dads to hang out,  encounters a plot to destroy the world. Jonah Hill will play the friend/sidekick to Vaughn's character, and a guy "who constantly embellishes his past to include a rough and dark side." Rosemarie DeWitt is also in the film, as Ben Stiller's wife. Chris Tucker is circling the role of divorced guy Jamarcus.
Between the two, I'd like to see Tucker in The Silver Linings Playbook. Easily my favorite turn of his is in Quentin Tarantino's Jackie Brown, and I'd like to see what David O. Russell could get out of Tucker. There might be some real acting left in him.