Steven Spielberg's 'Robopocalypse' To Be Co-Financed By DreamWorks And Fox And Released July 2013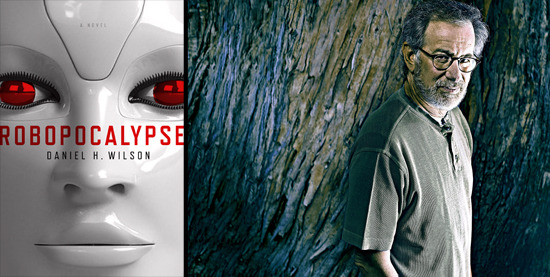 We may receive a commission on purchases made from links.
Steven Spielberg's vision of a robot uprising needs some help. Deadline reports Robopocalypse, the sci-fi action film based on a book by Daniel H. Wilson and written by Drew Goddard, has grown so big, DreamWorks has decided to co-finance it with Fox. Fox will distribute internationally and Disney, via their 2009 deal with DreamWorks, will distribute domestically. They're aiming for a July 3, 2013 release date. Read more about the project, and what this does to Lincoln, after the jump.Deadline broke the news of the financing deal and The Hollywood Reporter nabbed the release date.Robopocalypse sounds a whole lot like I Robot. Here's the Amazon description:
In the not-too-distant future, robots have made our lives a lot easier: they help clean our kitchens, drive our cars, and fight our wars–until they are turned into efficient murderers by a sentient artificial intelligence buried miles below the surface of Alaska. Robopocalypse is a fast-paced sci-fi thriller that makes a strong case that mindless fun can also be wildly inventive. The war is told as an oral history, assembled from interviews, security camera footage, and first- and secondhand testimonies, similar to Max Brooks' zombie epic World War Z. The book isn't shy about admitting to its influences, but author Daniel H. Wilson certainly owes more to Terminator than he does to Asimov. (A film adaptation is already in pre-production, with Steven Spielberg in the director's chair and a release date slated for 2013.) Robopocalypse may not be the most unique tale about the war between man and machine, but it's certainly one of the most fun.
Now that Robopocalypse has a release date, odds are he'll have to start shooting right on the tail of Lincoln, which is rumored to start shooting in the next few months. (Lincoln locations have been scouted in Georgia and other states for an October shoot, though we don't have a hard and fast start date available for that film.) He recently said that he loves working on multiple films at the same time (hence War Horse and Tintin which come out within days of each other this December) and these two will allow him to do that and play in totally different worlds.
Have you read Robopocalypse? What do you think Spielberg's version will be like?