Netflix Claims One-Stream-At-A-Time Restriction Was A Mistake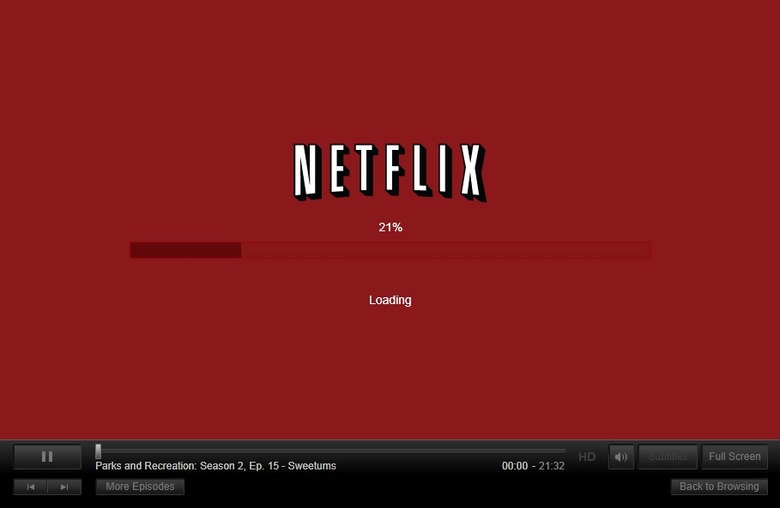 Reports surfaced earlier this week that Netflix had quietly begun enforcing a one-stream-at-a-time limitation, at just about the same time that customers were finally feeling the effects of the company's new pricing model. Although it's been Netflix's policy all along to allow customers to stream only as many videos as they had discs in their plan, it wasn't until recently that customers began getting error messages that actually prevented them from watching multiple videos simultaneously. The new restriction provoked, if not quite outrage, at least a fair amount of grumbling.
But while you're free to stay mad at Netflix for increasing the cost of the DVD plus watch instantly plan, it turns out there's no reason to get worked up over the streaming limitation after all. The company has announced that it isn't cracking down, and insists that customers who got the error message only did so because of a glitch in the system. Read more after the jump.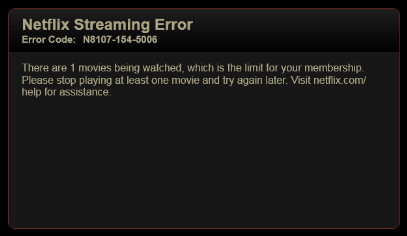 Now it seems customers are able to run multiple streams again — I myself have just tried watching Parks & Recreation on my Wii and Arrested Development on my laptop simultaneously, and can attest that I did not even get the pop-up message. (I currently have the "Unlimited Streaming + 1 DVD out-at-a-time" plan.)
Netflix Corporate Communications VP Steve Swasey clarified to various outlets that the earlier error message was a glitch rather than a crackdown or a policy change. "No Netflix member is limited to less than two concurrent streams," he said. "A few Netflix members have heard differently from us, which is an error that we are correcting."
However, it's worth pointing out that the Netflix FAQ page still states that members with certain plans may only stream on one device at a time:
Some membership plans allow you to watch simultaneously on more than one personal computer or Netflix-ready device. If you are on the Unlimited Streaming plan, the Unlimited Streaming + 1 DVD out-at-a-time plan or a limited streaming plan, you may watch only one device at a time.
If you are on the Unlimited Streaming + 2 DVDs out-at-a-time plan, you may watch on up to two devices at a time. Members on the Unlimited Streaming + 3 DVDs out-at-a-time plan may watch on up to three devices at a time. The maximum is four devices at a time — available for members on the Unlimited Streaming + 4-or greater DVDs out-at-a-time plan.
So I wouldn't get too comfortable until Netflix actually changes its policy. It's possible that the error message was a genuine, unfortunately timed mistake on the company's part, but on the other hand, Swasey's statement could just a swift reaction to all the bad PR. After all, Netflix isn't in a great position to take a hit right now. Not only are customers irate about the 60% price increase for the DVD plus streaming plan, it was recently announced that Starz would be breaking off their deal with Netflix when their existing contract expires in February 2012 — and taking its catalogue of 1,000+ titles with them.
Discuss: Did you notice the crackdown-that-wasn't? Share your harrowing tales in the comments.