Ron Howard Will Start Shooting 'Rush' This Weekend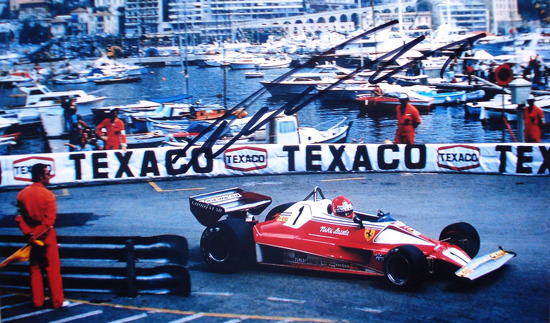 Gentleman, start your engines. Director Ron Howard can't officially start filming his historical Formula One film Rush until star Chris Hemsworth finishes The Avengers, but the director will be at the Nurburgring Race Track in Germany this weekend getting some early footage to use in the film. Both Hemsworth and co-star Daniel Brühl will be on hand as cars from the film's 1970s time period blaze around the track helping to tell the story of legendary racers James Hunt and Niki Lauda. We'll explain the story and what's being filmed early after the jump.
Deadline broke the news of the early shoot on the film which focuses on the heated rivalry between Hunt and Lauda that culminated in a battle for the world championship in 1976. The Nurburgring track plays a pivotal role in the story as its the track where Lauda set several records and eventually crashed his own car in protest of unfair safety conditions. He was badly hurt in the crash but still came back several months later so that Hunt, a notorious playboy and old friend of his, would not win the championship without a fight.
This weekend won't see that crash staged as it'll obviously be a huge stunt taking much longer than two days, but Howard and company had an opportunity to get live race footage at the track and decided it was important enough to scheduled the two days before the official start of shooting.
The other piece of information in Deadline's article is that Howard will be shooting Rush in 35mm. That's not a 100% guarantee that this high-octane racing drama won't be post-converted to 3D but it shows a loyalty to film stock as opposed to digital and gives a pretty good indication that Howard is going for a gritty, 2D, 70s look.
With Rush getting this early jump, it pretty much guarantees Hemsworth will go straight into this role after The Avengers and Thor 2 can't get rolling until mid-2012 at the earliest.
Are you excited to see this Formula One rivalry on the screen? Did learning about this world in the film Senna make anymore of a fan?