Superhero Bits: The Avengers, The Dark Knight Rises, Justice League, Man Of Steel, Batman Arkham City
[No photo]
This special Labor Day edition of Superhero Bits is filled with the labor that Joss Whedon and Christopher Nolan put in this weekend filming their 2012 blockbusters The Avengers and The Dark Knight Rises. The first page is non-spoiler superhero stuff, but then we've got two full pages of insane set photos, videos and details from the Manhattan sets of The Avengers and the Los Angeles set of The Dark Knight Rises. Suffice to say, the spoilers abound but some of the stuff is absolutely jaw-dropping. See it all, and more, in today's Superhero Bits.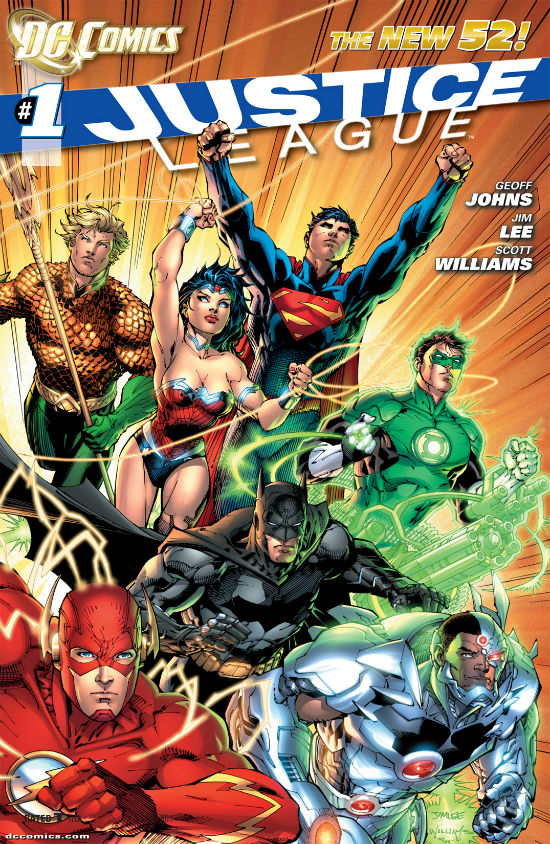 Entertainment Weekly has a break down of the new Justice League #1 (above) versus the old Justice League #1 and how the differences in the two show how the comic book landscape has changed drastically.Total Film (via CBM) spoke to Michael Shannon about his reaction watching Superman 2 in preparation for playing General Zod in Man of Steel:
I found that intimidating. He nailed it. My girlfriend was watching Superman 2 and I said 'Turn it off, I can't watch, I'm not worthy!'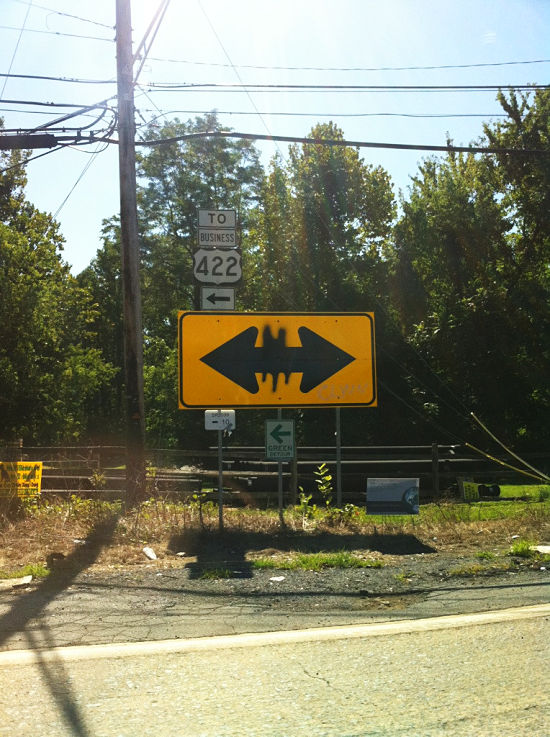 There's just some graffiti that we can all get behind, am I right? Thanks to UniqueDaily.
Iconic Iron Man writer Bob Layton spoke to 411 Mania (via CBM) about the problems with Iron Man 2 and which villain he hopes Shane Black will bring into Iron Man 3:
The Ghost is who I want them to go with. It's the villain I want them to use. I'm looking forward to getting the chance to talk to [Black] about it.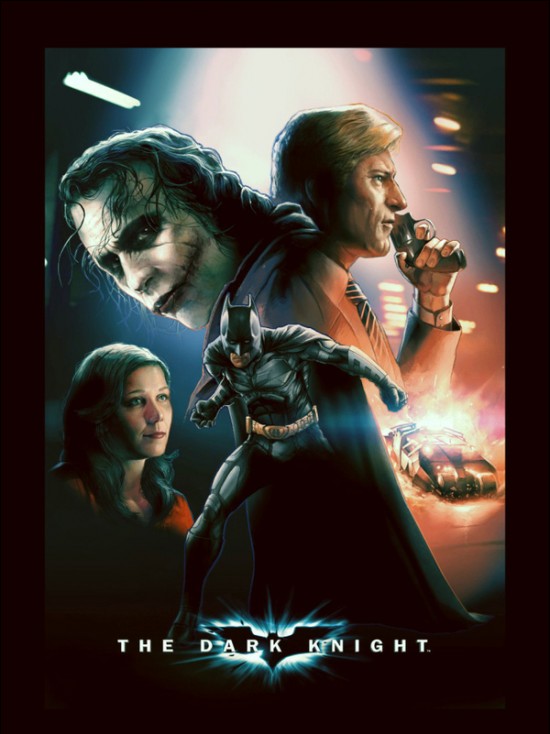 A few weeks back we ran Alexander Stojanov's poster for The Dark Knight Rises. He's now completed the trilogy. Above is The Dark Knight and he also did Batman Begins. Check them out over on Buzzfeed.
Tom Hiddleston spoke to MTV News about his work in The Avengers including the new costume ("more gangster") some specific fights, as well as these thoughts on the leaked photos:
Jeremy Latcham, who's the producer, showed me a picture that somebody took in Cleveland last week which was wrongly attributed to being a stunt double, but it was in fact me. It's either the one when I'm being kicked in the chest or in the throat by [SPOILER], that's definitively me. It was weird, we were out in the most public space in all of Cleveland which is that main square. We've tried to be so careful about keeping everything under wraps, just because you don't want the experience to be ruined before it comes out. But it was both difficult and exciting at the same time. It's exciting to get instant feedback from what you're doing. The Cleveland crowd was so great, whooping and cheering and happy to be there, they all came out and stood behind the barricades clapping and cheering, sometimes you look around and think, 'Oh yeah, we're making a big movie.'
Clark Gregg also commented to PopcornBiz (via CBM) about the leaked Avengers footage.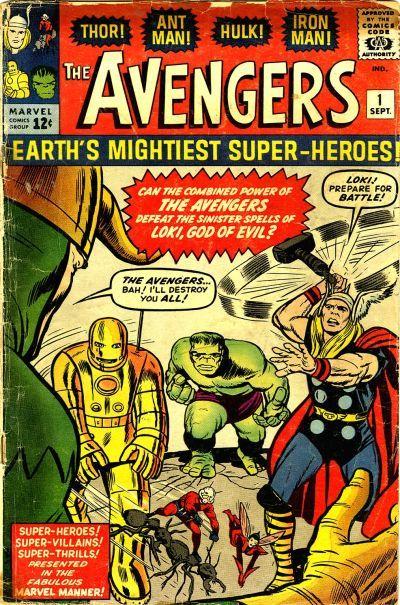 Back to Hiddleston, he spoke to IGN Movies about how he's proud The Avengers movie sort of mirrors what happened in The Avengers #1, seen above.
According to Gamerant, at the recent PAX convention, they were playing Batman: Arkham City and notice that in addition to Batman, Robin and Catwoman, there was room for a mystery fourth playable character.
THE NEXT PAGE IS FILLED WITH SPOILERS FOR THE AVENGERS. THE FOLLOWING PAGE IS THE DARK KNIGHT RISES AND MAN OF STEEL.
Due to the amount of graphics and images included in Superhero Bits, we have to split this post over THREE pages. Click the link above to continue to the second page of Superhero Bits.
[No photo]
Late last week we posted some photos of The Avengers on the streets of New York (such as above) and that was only the beginning of the action. Here's what else was going on in that scene and over the rest of the Holiday weekend:
Here's one of several videos posted on Comic Book Movie of The Avengers scene filmed in Central Park.
Comic Book Movie detailed exactly what's happening in the scene and, as I surmised, it's the end of the movie.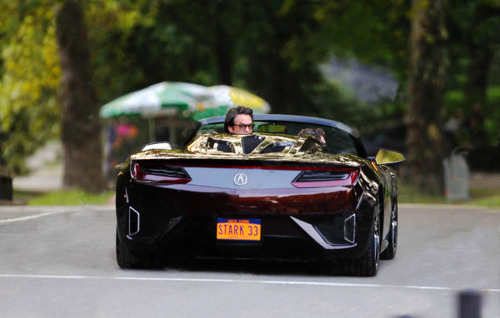 Tony Stark has a new car. It's an Acura that "is a one-off, fictional car that was made just for the movie and will not be produced" according to Auto Blog.
[No photo]
Loki and Thor hold onto some kind of device that's surely important in the film in a whole other set of photos from the movie.
[No photo]
Superhero Hype posted a bunch of photos of a non-Central Park Avengers set being dressed. They surmise this has to do with a crashed Quinjet. (CBM has a few other angles)
SHH also posted a huge gallery of photos from The Avengers Central Park shoot.
[No photo]
That non-Central Park, possible Quinjet set eventually hosted Captain America, Black Widow and Hawkeye thanks to Just Jared (via CBM). Head there for individual shots and higher res stuff.
[No photo]
Getty Images nabbed a bunch of shots of Stan Lee on the set of The Avengers over the weekend (thanks to CBM) confirming a cameo having to do with Captain America.
[No photo]
Here's an overview of another set of The Avengers in New York thanks to Bleeding Cool.
The Daily Blam has posted a video of the same explosion from the set of The Avengers. You can see this scene, complete with extras running and more, in a few other videos over on Comic Book Movie too.Finally, Comic Book Movie has an interesting breakdown, including some possible confirmation, that The Avengers could be battling a sea creature called The Leviathan. They were first tipped off when look at this call sheet and this goes with Joss Whedon saying the bad guys will be "something new."
THE THIRD PAGE IS FILLED WITH SPOILERS FROM THE DARK KNIGHT RISES AND SOME MAN OF STEEL STUFF TOO.
Due to the amount of graphics and images included in Superhero Bits, we have to split this post over THREE pages. Click the link above to continue to the third page of Superhero Bits.
[No photo]
Enough Avengers, how about some Batman? Here's a photo of Anne Hathaway fighting a thug in The Dark Knight Rises thanks to Just Jared. Who is the kid?
Comic Book Movie has a detailed description of what exactly is going on in The Dark Knight Rises scene above.
[No photo]
And CBM also has this cool photo (and more) of a blocked tunnel in Christopher Nolan's new film.
[No photo]
/Film reader Aaron F also sent in a few images from that same Dark Knight Rises set. This photos gives a great idea of the scope of it, and he also confirmed that Anne Hathaway was there with the Batpod (center).
Comic Book Movie also found this video of the scene in question being shot.
[No photo]
The Man of Steel Facebook Page (via CBM) has confirmed a cool tidbit. The Daily Planet building in Man of Steel will, reportedly, but the same building Christopher Nolan used for Wayne Enterprises in The Dark Knight and Batman Begins.
If you're curious what Christopher Meloni looks like in Man of Steel, head over to this page on Comic Book Movie to see him pose with some fans. It's not very exciting but I figured I'd mention it.