Rumor: Noah Baumbach Adapting Jonathan Franzen's 'The Corrections' For HBO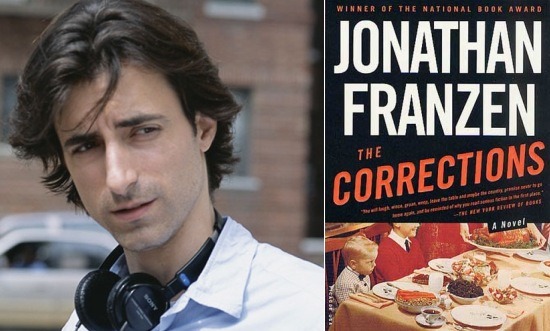 Whenever an existing property gets optioned for a new show or series, fans are left to hold their breaths and hope that the adaptation does the source material justice. If rumors of Noah Baumbach signing on for a TV adaptation of Jonathan Franzen's award-winning The Corrections is true, I'm guessing Franzen's fans have nothing to worry about. After all, who could be better suited to bring Franzen's disenchanted suburban family to life than the guy who directed The Squid and the Whale, Margot at the Wedding, and Greenberg?
To add icing on the cake, rumors also suggest that Donald Sutherland and Anthony Hopkins are among the actors eyeing a role in the project. Scott Rudin, who optioned the film rights to the novel a decade ago, is reportedly attached to executive produce. Read more after the jump.
Franzen's novel immediately earned raves when it was first published in 2001, winning the National Book Award and landing on Time Magazine's list of the top 100 English-language novels since 1923. It also attracted some negative attention when Franzen expressed his unhappiness over having his novel selected for Oprah's Book Club — prompting Oprah Winfrey to disinvite him from her show.
Here's the synopsis from the book jacket (via Cinema Blend):
After almost fifty years as a wife and mother, Enid Lambert is ready to have some fun. Unfortunately, her husband, Alfred, is losing his sanity to Parkinson's disease, and their children have long since flown the family nest to the catastrophes of their own lives. The oldest, Gary, a once-stable portfolio manager and family man, is trying to convince his wife and himself, despite clear signs to the contrary, that he is not clinically depressed. The middle child, Chip, has lost his seemingly secure academic job and is failing spectacularly at his new line of work. And Denise, the youngest, has escaped a disastrous marriage only to pour her youth and beauty down the drain of an affair with a married man-or so her mother fears. Desperate for some pleasure to look forward to, Enid has set her heart on an elusive goal: bringing her family together for one last Christmas at home.
Sutherland and Hopkins are said to be the contenders for the part of cranky patriarch Alfred Lambert.
I have to stress again that the entire project is strictly a rumor at this point. But Baumbach strikes me as such a uniquely good match for the book that I'm really, really hoping it'll prove to be true. The unlikable but fascinating characters of Baumbach's films could've come straight out of the pages of Franzen's satirical drama, and vice versa. Rudin's involvement seems like a positive sign as well. Rudin's worked with Baumbach previously on Margot at the Wedding and Greenberg, and I probably don't have to remind you that he has an excellent track record. Rudin's recent films include True Grit, The Social Network, and Fantastic Mr. Fox.
Discuss: Would you watch this series? If you've read the book, who would you want to see cast as the major characters? Finally: The Corrections or Freedom? I prefer Freedom, personally — less prickly, more humane.