VOTD: Stop Motion 'Toy Story' Space Adventure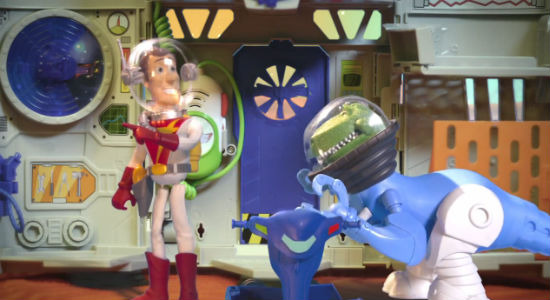 The Pixar movies have spawned a multi-billion dollar merchandising bonanza. And as kids know, in toy form these characters aren't limited to playing their specific roles from the movies. Want some of the Cars to have different paint jobs and guns? That can happen. Want the Monsters Inc. monsters to be cuddly and cute instead of scary? That's possible too. And if you want Rex and Woody to join Buzz Lightyear in an outer space adventure, putting them in spacesuits is completely legitimate.
Mattel is releasing a new line of Toy Story toys called Toy Story: Space Mission and to help with promotion, they've teamed up with Disney to make an official stop motion short film using the new toys. Watch Buzz, Woody and Rex take on Zurg after the jump.
Thanks to Pixar Times (via Bleeding Cool) for the heads up. Here's the video.
Pixar Times also has a bunch of cool facts about this film such as:
It took a crew of 8 people over more than 1300 hours and a span of 4 weeks to complete the toymation
Every second needed 12 frames of pictures
Every shot needed at least 3 takes, many of which had to be done separately with each toy and then composited together later
Each toy had to be taken apart and reassembled with wire and museum putty in order to be rigged properly to animate
The dust bunnies were created from an old carpet the team almost threw out right before production on the toymation project began
The crew made 5 trips to the supermarket to clear out their asparagus, big broccoli heads, and artichokes to build the vegetable forest set
Gotta love seeing the Toy Story toys being played with by a kid, even if they're in weird spacesuits. Anyone out there feeling like buying one of these?