Behind The Scenes 'Battleship' Clip Features Rihanna And Explosions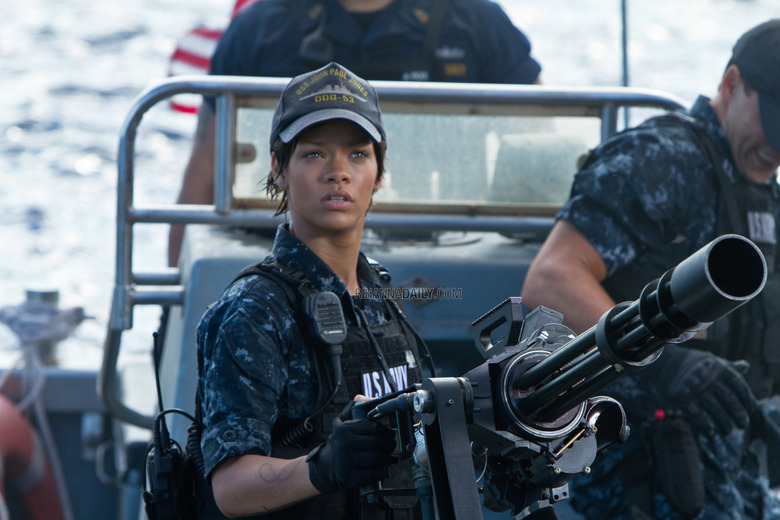 To date we've only seen a teaser trailer for Peter Berg's loose, to say the least, adaptation of the Hasbro board game Battleship and fan response has been largely venomous. The film, scheduled for release May 18, 2012, has plenty of time to fix that though as more of the its epic scale and story will continue to be revealed. From what we've seen so far, it looks like Aqua Independence Day.
Familiarizing us with that story and characters seems to be the aim of this behind the scenes video from Entertainment Tonight. It's got some new stunts, explosions, and breaks down who each of the stars – Taylor Kitsch, Alexander Skarsgard, Rihanna, Brooklyn Decker and Liam Neeson – play. Check it out after the jump.
While the clip comes from Entertainment Tonight, The Playlist provided the heads up. Here you go.
If you weren't sold on the trailer for Battleship, this clip isn't going to turn you around just yet. With nine months to go until its release, there's obviously still a lot of work that needs to be done. This clip, as well as the trailer, are probably just early renderings of some of the less impressive things that'll eventually end up in the movie.
It seems to me, though, that the whole conceit of Battleship – aliens vs. Navy in a massive, big budget showdown – is either something you buy into or you don't. The footage that's been release actually looks more like a Michael Bay movie than a Peter Berg movie and, in Bay's movies, it's not so much about the story as it is about a huge, visceral experience. If you don't fall in line with those kind of movies, Battleship probably won't work for you anyway.
Do you agree with that? And do you have any expectations about this movie?