TV Trailers: Patricia Clarkson On 'Parks & Recreation', Plus 'Community' And 'Glee'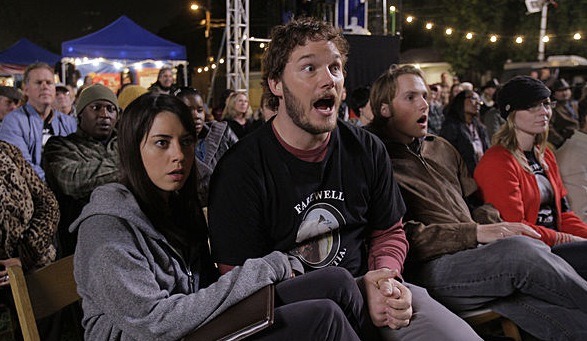 We may receive a commission on purchases made from links.
Sad as I am to see summer go, there is something I'm really looking forward to about the coming months, and that is the advent of the television's regular season. After a long summer away from my imaginary friends in Pawnee, Greendale, and Lima, I'm eager to check back in and see what the new premieres have to offer. Hit the jump to see:
The beginnings of a triple-Tammy drink-off in a preview for Parks & Recreation Season 4
Greendale Community College literally dancing for joy in the promo for Community Season 3
Those crazy New Directions kids up to their usual tricks again in a spot for Glee Season 3
[Flash 10 is required to watch video]

(I'm told you can also download the preview for free on Amazon, but it's not working for me at all.)
I exaggerate only slightly when I say that my face looked like Andy's (Chris Pratt) in the header image while I was watching this video. Parks & Recreation's fourth season hits Thursday, September 22 at 8:30 PM on NBC. [Cinema Blend]
A few days ago, we showed you the first promo for John Goodman's appearance on the third season of Community. A new spot has landed, which covers most of the same ground but also but mixes in clips of some jazzy dance numbers. Jeff (Joel McHale) may not understand the appeal of Glee at all, but it seems the people making Community do — and if the musical number (or, fingers crossed, musical episode?) is half as fun as it looks, it may end up out-Glee-ing Glee itself.
The new season of Community will premiere on NBC Thursday, September 22 at 8 PM — just before Parks. [Vulture]
Speaking of which, here's another promo for the third season of Glee. The video promises, "New year, same underdogs," and indeed, it looks like more of the same: Sue (Jane Lynch) and Will (Matthew Morrison) are still engaging in their rivalry, Finn's (Cory Monteith) still wrestling with being unpopular, and Brittany (Heather Morris) is still charmingly ditzy. But hey, it looks like Quinn (Dianna Agron) has gone punk rock, or something, so that's something new to look forward to, right?
Glee will return for its third season Tuesday, September 6 at 8 PM on Fox. Yes, that's this Tuesday. Summer is officially over. [Vulture]