Ben Affleck's 'Argo' Adds Michael Parks, Clea DuVall, Richard Kind; Official Synopsis Revealed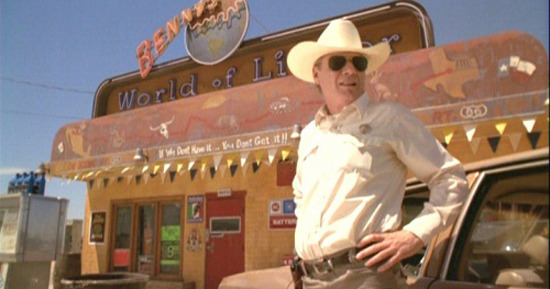 Warner Bros has sent out the obligatory press release to announce the commencement of filming on Ben Affleck's third film as director, Argo. We've known most of the cast for a while: Affleck, Alan Arkin, Bryan Cranston, and John Goodman, with more recent additions Kyle Chandler, Tate Donovan, Rory Cochrane and Taylor Schilling.
Now we've got an official synopsis for the film, which adapts the true story of a CIA team that posed as a film crew in order to extract diplomats from Tehran in 1979. But perhaps of more interest to some who already know the story is the confirmation of cast additions that include the great Michael Parks (above), as well as Clea Duvall and Richard Kind.
I can't really do better than the press release, which goes like this:
Based on true events, "Argo" chronicles the life-or-death covert operation to rescue six Americans, which unfolded behind the scenes of the Iran hostage crisis — the truth of which was unknown by the public for decades.
On November 4, 1979, as the Iranian revolution reaches its boiling point, militants storm the U.S. embassy in Tehran, taking 52 Americans hostage. But, in the midst of the chaos, six Americans manage to slip away and find refuge in the home of the Canadian ambassador. Knowing it is only a matter of time before the six are found out and likely killed, a CIA "exfiltration" specialist named Tony Mendez (Affleck) comes up with a risky plan to get them safely out of the country. A plan so incredible, it could only happen in the movies.
"Argo" also stars Oscar(R) winner Alan Arkin ("Little Miss Sunshine"), Bryan Cranston (TV's "Breaking Bad") and John Goodman ("You Don't Know Jack"). The main cast also includes Kerry Bishe, Kyle Chandler, Rory Cochrane, Christopher Denham, Tate Donovan, Clea DuVall, Victor Garber, Zeljko Ivanek, Richard Kind, Scoot McNairy, Chris Messina, Michael Parks, and Taylor Schilling.
Affleck is directing the film from a screenplay by Chris Terrio, based on a selection from Master in Disguise by Antonio Mendez. David Klawans, Chris Brigham, Graham King, Tim Headington, Chay Carter and Nina Wolarsky are serving as executive producers.