'Janie Jones' Trailer: Abigail Breslin Likely Steals The Show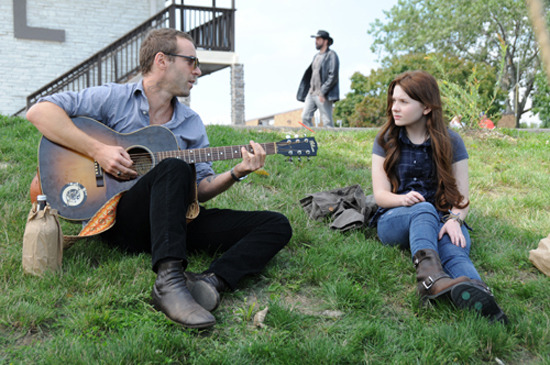 Well, I hope if an old girlfriend dropped the daughter I never knew I had in my lap, I could at least have the pleasure of discovering she was named after one of the best early songs by The Clash. Janie Jones is both a TIFF 2010 film and the name of the young woman — the daughter of which rocker Alessandro Nivola was unaware — played by Abigail Breslin in the film. The trailer for the Tribeca Films release is available below — the movie hits in late October — and you can have a look below.
Abigail Breslin looks like she has some good moments here (as she often does) but beyond that this doesn't look terribly appealing. But maybe if you thought that Somewhere was a little too slow this will be just the ticket. This is also a particularly sappy trailer, between the choice of intertitles and the use of music, so I can imagine that it doesn't really do the film any favors.
Rocker Ethan Brand (Alessandro Nivola) and his band, the Ethan Brand Experience, are on the comeback trail when a former flame (Elisabeth Shue) drops a bomb in his lap—their 13-year-old daughter, Janie Jones (Abigail Breslin). Ethan refuses to believe Janie is his kid, but when her mom suddenly leaves for rehab, the child has no place to go but with the band. With no inclination toward fatherhood, Ethan continues his hard-living ways, leaving Janie to fend for herself in the dive bars and sleazy motels along the way. As his drug- and booze-fueled antics take their toll on and off stage, the band deserts him one by one, until he and Janie are left alone. Desperate to finish the tour and revive his career, Ethan stays on the road as a solo act with Janie in tow. As Ethan's self-destructive spiral threatens to derail his comeback, Janie uses her own surprising musical talents to help guide him down the rocky road to redemption.
Janie Jones will open in theaters and On Demand October 28, 2011.