Cool Stuff: Tom Whalen's 'Monsters Inc.' Kicks Off Mondo Pixar Series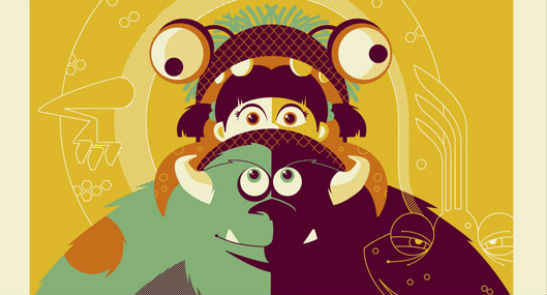 Mondo has done a series for Star Wars, they're still releasing posters for Star Trek, they have several different Director's Series running and just yesterday they announced they'll be doing a series for Jurassic Park. Not to outdo themselves, but Thursday they announced yet another ongoing series of posters: Pixar movies. The first poster, Monsters Inc. by the great Tom Whalen, goes on sale Friday. Check it out after the jump.
Here's Monsters Inc. by Tom Whalen.
The 18"x24" screen print has a limited edition of 365 and costs $45. Follow @MondoNews on Friday September 2 to purchase.
The amount of layers and detail in this piece might make it Whalen's best yet. It's really awesome. I especially love the fact that Randall is "invisible" on the side. Still, I'd love to see some other artists interpret these Disney characters. Whalen has done several for Mondo already and while they're all very evocative, and his clean style blends perfectly with their image, I hope this series brings us new artists showing us Pixar characters.
What do you think of this image? What artists and Pixar movies would you like to see paired? Personally, I'm going to stray from the obvious (Stout Incredibles or Toy Story) and say Olly Moss doing Wall-E. That would be great. He's already shown what he can do with Up and Ratatouille in his Paper Cuts show and each were some of the best in that series. It's obvious he's a fan.
Also, Eric Tan has done some phenomenal work on Disney stuff – including Wall-E and Cars – for Acme Archives so he obviously loves Pixar too. It would be fantastic to see some new work of his screenprinted for Mondo.
Okay, enough rambling. Disney, Pixar and Mondo just gets me incredibly excited. I can't be the only one.