'American Reunion' Promo Images And Photobooth Montage Show 'Pie' Cast Twelve Years Later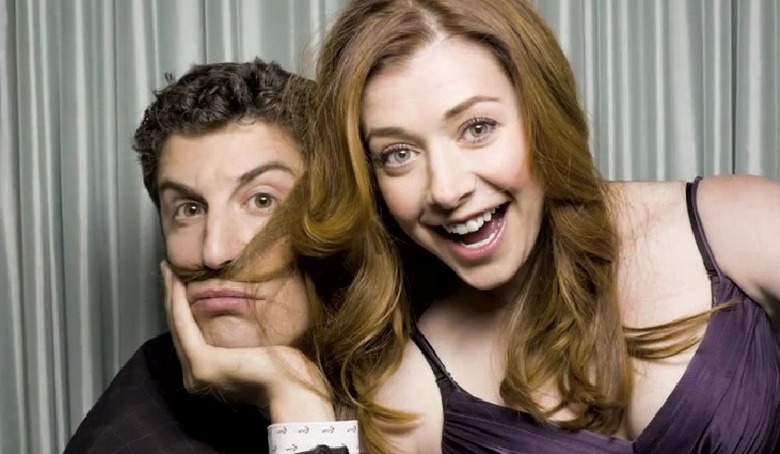 Tough as it is to believe, it's been over a decade since we first met the American Pie cast in 1999. If that made you pause and think "Wow, that makes me feel old," you're just where Universal Pictures wants you to be. The marketing team behind American Reunion has been pushing the nostalgia angle (not surprisingly), and I, for one, have found it totally effective. Their latest effort is a montage of the core cast goofing off inside a photobooth — a simple idea that might nevertheless have you going "awww" as each familiar face flashes by. Hit the jump to see the slideshow, plus a promo image of the Class of 1999.
And here's a small still of the old gang: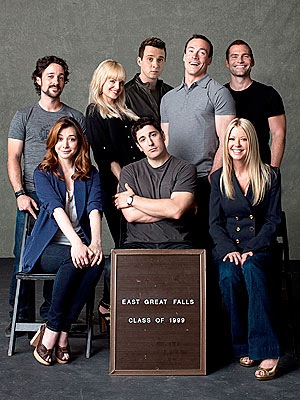 [via Vulture]
Seeing everyone together again, it's striking how some of the actors look exactly the same while others have changed considerably. Kind of like at a real high school reunion, I guess. Jason Biggs and Seann William Scott in particular look like they've barely aged a day, while Tara Reid is nearly unrecognizable — though thankfully much happier looking than she was during her train wreck days.
The song, in case you were wondering, is "Laid" by Matt Nathanson. It was also used on the soundtrack for 2003's American Wedding, the last movie to feature the original American Pie cast.
Here's the official synopsis:
In the comedy American Reunion, all the American Pie characters we met a little more than a decade ago are returning to East Great Falls for their high-school reunion. In one long-overdue weekend, they will discover what has changed, who hasn't and that time and distance can't break the bonds of friendship. It was summer 1999 when four small-town Michigan boys began a quest to lose their virginity. In the years that have passed, Jim and Michelle married while Kevin and Vicky said goodbye. Oz and Heather grew apart, but Finch still longs for Stifler's mom. Now these lifelong friends have come home as adults to reminisce about—and get inspired by—the hormonal teens who launched a comedy legend.
In addition to the actors shown above, Pie co-stars Jennifer Coolidge, Shannon Elizabeth, and Natasha Lyonne are also set to appear in Reunion, along with franchise newcomers Chuck Hittinger, Jay Harrington, Ali Cobrin, Dania Ramirez, and Katrina Bowden. Written and directed by Jon Hurwitz and Hayden Schlossberg, American Reunion hits theaters April 6, 2012.