Cool Stuff: Mondo Mystery Movie Poster - 'Jurassic Park' By Aaron Horkey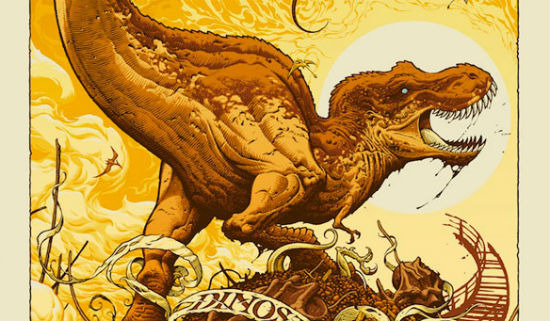 What's better than seeing Steven Spielberg's classic action adventure film Jurassic Park on the big screen once again? Not knowing about it and getting an amazing, extremely limited edition poster to go along with it. Mondo, the poster boutique of the Alamo Drafthouse, had their second Mondo Mystery Movie Wednesday night and after weeks of speculation and misdirection (the website hinted at a sequel that ran 134 minutes), the film ended up being Jurassic Park. But not only was mystery movie Jurassic Park with a brand new poster, that poster – by Aaron Horkey – is the first in a series Mondo is doing themed around the film.
After the jump get a good look at this first-in-a-series that will only ever be sold (at retail cost at least) to tonight's sold out audience.
Thanks to Movies.com for poster premiere.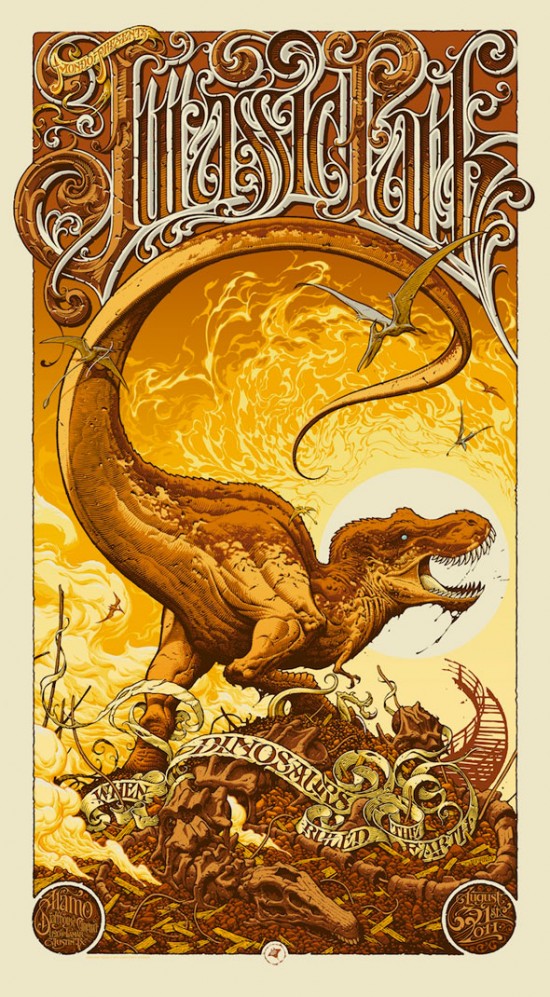 Aaron Horkey is one of the most sought after and elusive poster artists today. You probably recognize his work from his previous Mondo posters such as Pan's Labyrinth, True Grit and more. His detail and lettering are something special and while his style certainly isn't for everyone, this print, and its even more limited variant, are going to be incredibly sought after.
So while most of us will never have a chance at acquiring this piece, the possibilities of a series of Jurassic Park posters is mind-boggling. Mondo does it again. The second one will be available in October timed to the Blu-ray release.
Also, be on the lookout over on @MondoNews because they're reportedly bringing the Mondo Mystery Movie to cities outside of Austin. New York? Los Angeles? And what will the movies be? We'll find out soon.
Thoughts from /Film editor Peter Sciretta:
I'm not that impressed with Aaron Horkey's Jurassic Park poster. It looks more like a music gig poster than a screenprinted movie poster, and the typeface reminds me of Sucker Punch (which was going for the same style). And yes, I totally understand thats Horkey's style, but its just not my thing. I also don't understand why that looks like a sun in the background if that scene takes place in the JP visitors lobby? I might be reading too much into this as the illustration featuring flying dinos, who were completely almost completely absent from the first movie.
Update: InsideTheRockPosterFrame have posted an image of the blue variant: