'Blues Brothers' TV Show Being Shopped Around Hollywood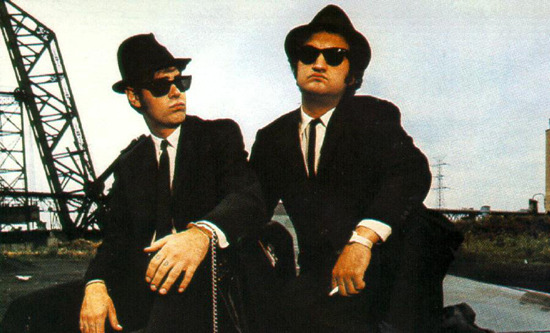 The Blues Brothers got their start on TV, made a big splash on the big screen and now might be dancing back to the boob tube. Variety reports a new take on the classic comedy duo is being shopping around to possibly become a new television series. The show would see Jake and Elwood, famously played by John Belushi and Dan Aykroyd, just released from jail looking for Elwood's real father. Both parts would obviously be recast and, if the show makes it to series, it would include a new musical number each week. There's more after the jump.Variety's story explains that while Universal owns the movie rights to the characters, Aykroyd and John Belushi's ex-wife Judy, hold the TV rights. They're fully in support of this series. It's being written by Belushi herself, along with former Saturday Night Live writer Anne Beatts, Wayne Catania and Kieron Lafferty. Aykroyd would not star in the show, but would lend his voice to the Blues' parole officer. Here's what Belushi told Variety:
I think these are great American characters. We want to keep them alive. We chose to introduce them as new characters but do it in an way that they have some history, have some life behind them.
Beatts added, "We're not trying to replicate Dan and John but Jake and Elwood." She also described the show as Route 66 meets Glee, referring, of course, to the music, but then explaining – in true Blues Brothers fashion – "it all goes to hell in a handbasket."
The fact that this project is being backed by the original creators of the characters is certainly a good sign. Plus, in the realm of characters that have been repackaged, rebooted or reinvented both in movies and TV over the years, they're more iconic than most. Still, that doesn't shake the fact that something doesn't sit right here. Maybe it's because as fun as Jake and Elwood were on Saturday Night Live and in their hit movie, they were best in small doses. Blues Brothers 2000 proved that.
Thoughts?