Read The Extended Opening Scene To 'Say Anything'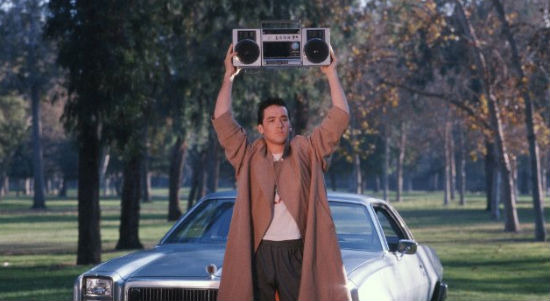 Besides making a bunch of new movies and teasing fans about a possible idea for Say Anything 2, Cameron Crowe is letting his official website – The Uncool – dig into his archives. Over the next few days they're going to be publishing previously lost scenes from Crowe's directorial debut, Say Anything. All the scenes are from his January 18, 1988 final shooting script. The first one extends the opening of the now classic film, starring John Cusack, Ione Skye and Lili Taylor in which Lloyd speaks with Corey and D.C. about calling Diane. It's more of an extension than a full fledged deletion, but it's a great read none the less. Check it out, and link to an extension of the graduation speech scene, after the jump.
Thanks to the The Uncool for the scene and Movieline for the heads up. Here's Cameron Crowe's original opening to Say Anything:
"SAY ANYTHING..."
FADE IN OVER BLACK:
INT. COREY'S BEDROOM – DAY
LLOYD DOBLER, 19, sits slumped in a small chair. He's tall, bulky, his nose looks slightly mashed. Hidden in there somewhere is a good-looking kid. Lloyd thumbs through a newspaper, sips a Super Big Gulp from 7-11.
We're in the bedroom of COREY FLOOD, 17. It's a weigh-station between school and home. Corey's walls feature photos and collages, most of them featuring a darkly-handsome young man named Joe. Corey sits on her bed, playing Led Zeppelin riffs on an amplified electric guitar. By her bed is a four-track cassette recorder — the sign of a musician. Sitting on the floor, writing in a journal, is girlfriend D.C. She's a loyal supporter of her two friends, an introvert who mediates between two extroverts. Corey looks down at the school annual open on her bed.
COREY
I don't feel anything.
D.C.
Come on. It's graduation.
COREY
It's all so phony. Did you see what
Mr. Carroll wrote in my yearbook?
He ridiculed me all year long in
English, then he wrote — 'You're a
real live wire...Love, Mr. Carroll.'
D.C.
He wants to leave things on a good
note.
COREY
When Mr. Carroll says 'love' I start
looking for a new word.
D.C.
Lloyd, she's being difficult.
Lloyd looks up from his newspaper.
LLOYD
If life was a movie, what would it
be rated?
COREY
That's a 'Lloyd' question.
D.C.
Probably R. Maybe X.
COREY
Since Joe, my life is definitely X.
LLOYD
I'm probably PG-13 — some material
may be too intense for young children.
D.C.
That's too bad.
LLOYD
I'm doing something about it. I'm
going to take Diane Court out again.
The girls exchange meaningful looks.
COREY
Unlikely.
LLOYD
The movies is a good second 'date',
right?
COREY
You never had a first date.
D.C.
I hate that word 'date.'
LLOYD
I sat across from her at Bell
Square. We both ate. That's
sharing eating — an important
physical event. Why isn't that
going out?
COREY
That's not even a scam.
LLOYD
What's a scam?
COREY
Going out as friends.
D.C.
No it's not.. Scam is lusting.
LLOYD
Then what is a date?
The girls take a moment to consider.
D.C.
A date is . . . prearrangement with a possibility for love.
LLOYD
I'm going to call her.
COREY
Lloyd.
LLOYD
What?
COREY
Diane Court doesn't go 'out'. She's
a brain . . .
D.C.
. . . trapped in the body of a game
show hostess.
COREY
Diane Court doesn't even know how
good-looking she is. All she thinks
about it bio-chemistry.
LLOYD
This all sounds great to me. I'm
going to call her.
COREY
Lloyd. Brains stay with brains.
The bomb could go off, and their
mutant genes would form the same
cliques.
He gets up, bounces lightly off the walls.
D.C.
I wouldn't get my hopes up, Lloyd.
LLOYD
Did she every say anything about me,
Corey? Tell me the truth.
COREY
(high-strung)
She doesn't talk about that stuff!
LLOYD
Take it easy. I was just asking.
COREY
You're such a nice guy, Lloyd. We
just don't want to see you get hurt.
Lloyd stands, lumbers around the room.
LLOYD
I want to get hurt! Will someone
just let me get hurt?
Like what you read? Well The Uncool also posted an extension of Diane Court's graduation speech, but we'll just direct you there to read that.