Ben Affleck's 'Argo' Adds Tate Donovan, Nelson Franklin And Taylor Schilling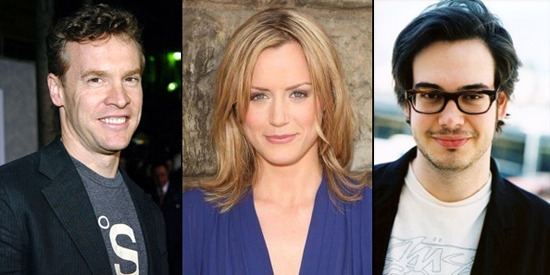 The smaller casting for Ben Affleck's third directorial effort, Argo, is falling into place. The movie already has a great topline cast: Affleck, Alan Arkin, John Goodman, Kyle Chandler, Bryan Cranston and Scott McNairy are part of the true story about a CIA team that attempted to extract diplomats from Tehran in 1979 by posing as a film crew scouting locations to make a sci-fi film called Argo.
Now Tate Donovan (Good Night, and Good Luck), Nelson Franklin (The Office) and Taylor Schilling (Atlas Shrugged, Mercy, The Lucky One) have been added to the cast.
Variety has this cast breakdown:
Taylor Schilling will play Christine Mendez, a former teacher who worries about her husband (Affleck) while he's off on a dangerous mission.
Tate Donovan will play Bob Anders, a U.S. embassy consular officer in Tehran,
and Nelson Franklin will play a reporter.
I don't have a lot of familiarity with Schilling besides seeing not-so-appealing glimpses of her work in Atlas Shrugged. But if Ben Affleck has proven anything with Gone Baby Gone and The Town, it is that he can get a lot of mileage out of just about any actor. (And he can get incredible work out of particularly talented people.) So I'll avoid any rush to concern and continue to keep my hopes up for the comic/strange/true story of Argo.
Chris Terrio wrote the script based on Joshua Bearman's April 2007 Wired article 'How the CIA Used a Fake Sci-Fi Flick to Rescue Americans from Tehran.' I'm expecting a slight Men Who Stare at Goats vibe from the film, in part because it is being produced by George Clooney and Grant Heslov.