Anne Hathaway Approached For 'Les Miserables'?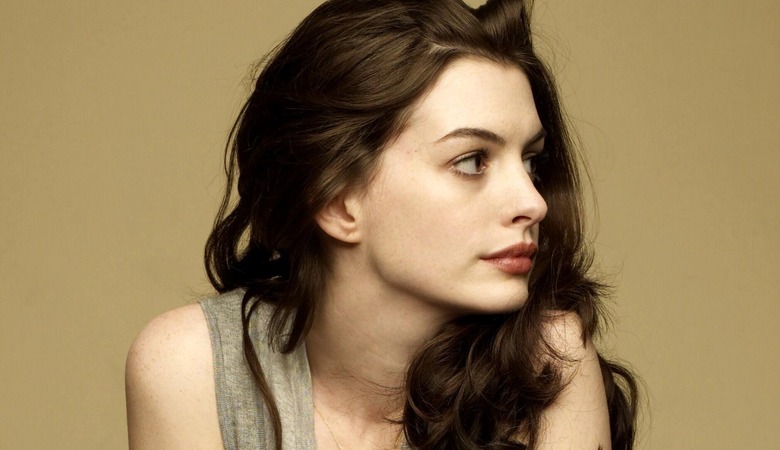 Casting rumors have been swirling around Les Miserables, Tom Hooper's big-screen adaptation of the megahit Broadway musial, for quite some time, but this one seems more solid than your usual water cooler chatter. Star Hugh Jackman is reportedly pushing Anne Hathaway for the role of Fantine, the unwed mother of Cosette. (Or, if neither of those charcter names mean anything to you, feel free to think of Fantine as the one who sings Susan Boyle's signature song "I Dreamed a Dream.") Read on after the jump.
Empire reports that Jackman is going after Hathaway for two reasons: her huge name, and her proven vocal talents. Moreover, Hathaway's expressed her interest in musicals before. Recently, she spoke about her desire to do a guest spot on Glee, and a couple of years back, she was attached to play the lead in a Judy Garland biopic. She and Jackman have even done musical theater together before, sort of — during his gig hosting the show in 2009, Jackman brought her onstage for a brief, funny bit in his opening number.
Since it first premiered in 1985, Les Miserables has become the longest-running musical of all time. Based on the novel by Victor Hugo, the 19th-century tale centers around ex-con Valjean as he seeks redemption after getting out of a long stint in prison. Though the stage show consists mostly of sung, rather than spoken, dialogue, the big-screen version will include more spoken dialogue so as to better fit the medium. The film is scheduled to go into production in late 2011 or early 2012, before Jackman begins work on The Wolverine in spring 2012.
To help you imagine Hathaway in the role of Fantine, here's her singing a parody version of "On My Own" at this year's Oscars. No, it's not actually Fantine's number, but you get the idea:
And here's Jackman performing at the Awards two years previously. Hathaway appears at about 2:15 and, later, hits some impressive high notes: