Screenwriter Says David Fincher's '20,000 Leagues Under The Sea' Will Differ Greatly From Verne's Version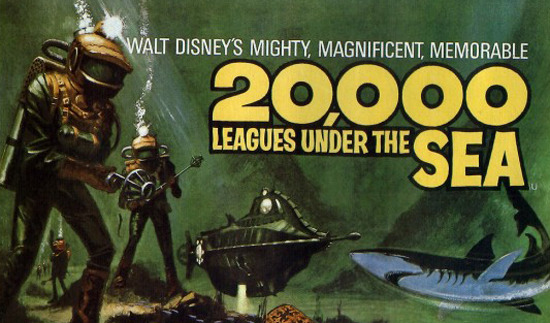 In May of last year, we started hearing that David Fincher might direct Disney's new version of the classic Jules Verne tale 20,000 Leagues Under the Sea, about three men who find themselves 'rescued' by Captain Nemo, pilot of the high-tech and very secret submarine the Nautilus. Several new versions have been developed in the wake of Disney's 1954 film, and David Fincher reportedly approached Disney about taking on the film; he was officially hired last December.
The last time we heard anything about the film was thanks to brief comments from Fincher himself, who said Leagues "will be probably 70% CG." Now the screenwriter, Scott Z. Burns (Contagion), is talking a bit about the project, saying that he and Fincher have jettisoned a good many particulars from the Verne novel.
CinemaBlend talked to Scott Z. Burns today, who said that he hopes for a spring shoot for the Steven Soderbegh-directed The Man From U.N.C.L.E. He also said that his scripts for that and Leagues are both done and waiting for the casting process to begin.
There isn't one blockquote to throw your way, but CinemaBlend says the scale of the film is "very big," which we expected, and that we can expect "very little" to be directly translated from page to screen. That's an interesting point that could lead to a lot of speculation, especially given how little we know about the film in general.
Burns says his job "isn't to turn a book into a movie, it's to be inspired by the book and then go write a movie."  In that sense, he and Fincher focused on three core characters: Captain Nemo, marine biologies Pierre Aronnax and harpoonist Ned Land. (So Aronnax's faithful assistant Conseil is out?) He explains,
David and I had a really cool idea for the relationship between Nemo, and Aronnax and Land. [...] That's really what we kind of got into. But I think it's very, very true to the spirit of the book.