'Scott Pilgrim Vs. The World' Gets Midnight Residency At New Beverly In Los Angeles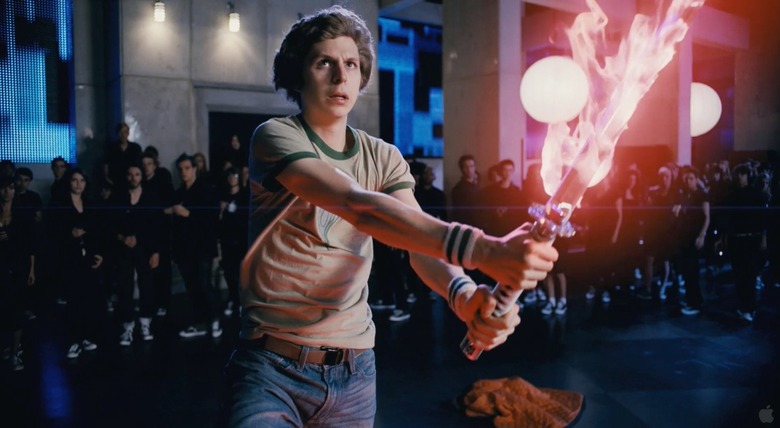 Someone must have put in a cheat code because Scott Pilgrim vs. The World just got unlimited lives. Though you can watch Edgar Wright's awesome adaptation of Bryan Lee O'Malley's comic book anytime you want on Blu-ray, or cable for that matter, the film will now play on the big screen every single month at the New Beverly Cinema in Los Angeles, CA.
The theater, which is co-owned by Quentin Tarantino (and had Wright as programmer for a month last year), is the place Scott Pilgrim had its midnight-movie birth with a series of sold out screenings. Starting in September, the film is starring an open-ended  Rocky Horror Picture Show-esque residency. Read more after the break.
The New Beverly made the initial announcement on Twitter but then did an interview with Movieline with a few details. Namely that the first showing is going to be September 23 and that costumes are encouraged.
Though Scott Pilgrim vs. The World was a box office disappointment, making only $48 million worldwide vs a $60 million budget, it has certainly found its audience. The film has continually sold out midnight and repertory screenings in Los Angeles, New York, San Francisco and more as fans continue to discover the film in various ways. More and more people are realizing it's a film that grows on you with multiple viewings, encourages fan participation and speaks to a generation of homeless romantic video game and pop culture fans.
What's great about these midnight screenings, too, is that Scott Pilgrim has such a large ensemble cast, if Edgar Wright can't show up himself to introduce it – which he has often done – then one of the stars is usually available. For example, this past weekend Wright was introducing the film in San Francisco so Mark Webber, who plays Stephen Stills, did the same thing in Los Angeles.
Are you still loving Scott Pilgrim? Will you check it out in midnight screenings?