Zoe Saldana To Play Angelic Action In 'Dominion'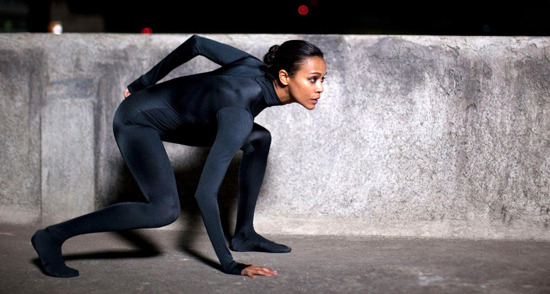 Briefly: Not a lot of details on this one just yet, but it looks like Alex Proyas isn't the only one getting into the 'action movie with angels' game. Zoe Saldana has closed a deal to produce and star in a film called Dominion. It's a Paramount picture, based on a pitch by Dean McCreary and Chester Hastings. We don't know the plot outright, but in announcing the film THR says Saldana will play a woman "who is half-human, half-angel."
It's a good move for Salanda on the eve of the opening of action movie Colombiana, which is getting pans across the board. Since her mid-sized Star Trek appearance and much larger Avatar role, she's been able to do better material, but there are still a good few shrug-worthy films on her recent resume. Will Dominion be different? At this point it is impossible to tell, but stepping in as a producer can't be a bad thing.