'Hobo With A Shotgun' Director Jason Eisener Making 'Blatant Violence High,' AKA 'BVH'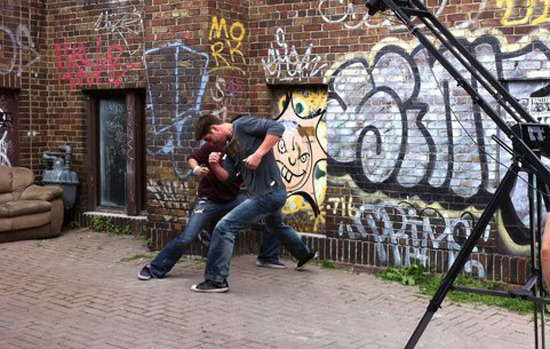 Briefly: Looks like Hobo With a Shotgun director Jason Eisener is already deep into production on his follow-up. We'd heard talk of him making a film called BVH, without knowing too much about what the picture actually is. Now we know that 'BVH' stands for Blatant Violence High, as cinematographer and occasional director Karim Hussain says that he's working on the film with Eisener. There isn't a lot of info available on the film right now, but Bleeding Cool talked to Hussain at Frightfest yesterday, and reports that the film is evidently "a street fighting vigilante film featuring a lot of martial arts work."
On his own Tumblr, Eisener says BVH is inspired by the video game Vigilante, and he has referenced The Warriors while talking about the film. (Which almost seems like a necessary thing to do.) Stuntman Nick Bateman posted the header image, of a fight scene being staged for BVH. That was over a month ago, so might we actually see some footage from BVH soon?