What Is Doc Brown From 'Back To The Future' Doing In Argentina? [Video]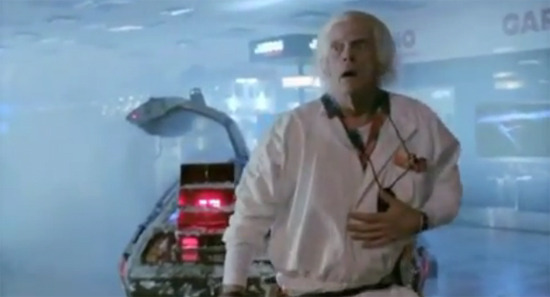 What is Doc Brown — that is, Christopher Lloyd — advertising in this Argentinian commercial? (Or 'Argentine.' I'm never certain which is correct.) The spot features Doc appearing in the Back to the Future DeLorean, which promptly crashes into Garbarino, an electronics superstore. Is this a commercial for the store, or for the phone that Doc seems to be reaching for right at the end? Probably the former, but if you just want to see Lloyd back in character and driving the DeLorean, it probably doesn't matter.
See the spot after the break.
Here's what the YouTube page offers (translated):
This is the HD video in the Delorean in Cabildo and Oath (FINAL COMPLETE VERSION). It's full participation of all Christopher Lloyd ("DOC", Emmet Brown). It was shot earlier today in Buenos Aires, Argentina. I share it with everyone because I had a hard time finding it. The other versions are not in this capacity and are not full versions. Seeing that we could imagine a Back To The Future IV. Will there be another one?
There's this unofficial behind the scenes clip, too: