TV Bits: Four 'Walking Dead' Season 2 Teasers, 'Grey's Anatomy' Creator Sells Historic Hotel Series, MTV VMAs To Go Hostless, Adam F. Goldberg Gets 'Breaking In' Renewal And New Pilot Order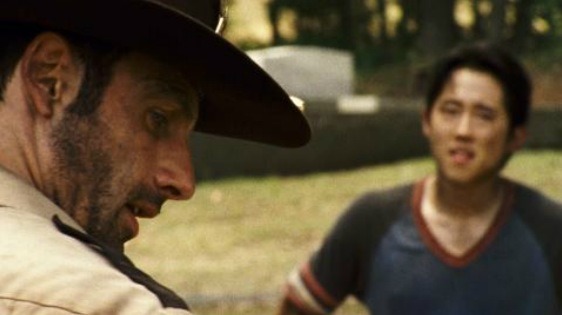 We've been getting flooded with TV news lately, and today's no exception. So let's get right to it. Ater the jump, read about:
Teasers for Season 2 of The Walking Dead
Grey's Anatomy creator Shonda Rhimes' new 19th-century project
MTV's decision to have no one at all host the VMAs
The miraculous resurrection of Fox's Breaking In
My favorite is the last one, which comes across to me like someone in the marketing department just really wanted to use that "Makes True Blood look like iCarly!" quote and couldn't figure out where else to put it. [Comic Book Resources]
Shonda Rhimes made her name with doctor dramas like Grey's Anatomy, Private Practice, and the short-lived Off the Map, but it seems she's now looking to explore some other, non-medical professions. Rhimes has just sold ABC the script for Gilded Lillys, an 1895-set drama about New York's first (fictional) luxury hotel. Created by KJ Steinberg (The Nine), Gilded Lillys will center around the family who owns the hotel, as well as the staff and customers.
Rhimes is set to executive produce the project with Grey's Anatomy collaborator Betsy Beers. Earlier this year, ABC also picked up Rhimes' Scandal, which will star Kerry Washington as a political crisis management expert, as a mid-season replacement. [Entertainment Weekly]
And the honor of hosting this Sunday's MTV Video Music Awards goes to... absolutely no one. After weeks of looking, and apparently failing, to find the right person for the job, MTV has decided to proceed without a host for the ceremony. Not that we'll need to worry about lacking for entertainment: while the show won't have a host, it will have an Amy Winehouse homage by Tony Bennett, a Britney Spears tribute, and at least eight different musical acts including performances by Lady Gaga, Beyonce and Lil' Wayne.
Honestly, it's not a terrible idea. Unless you're Neil Patrick Harris, hosting can be kind of a thankless job. And awards shows in general tend to be bloated and overlong, so if cutting out the host helps streamline the ceremony, I'm all for it. Theoretically, anyway — I'm not actually planning to watch the VMAs or anything. [Today]
Earlier this year, Fox cancelled its comedy Breaking In, but then hinted at a possible resurrection by extending its option on the series' cast and saying that "stranger things have happened." Now it seems the show really will be coming back from the dead, just as fellow Fox show Family Guy once did. The workplace sitcom, about a high tech security firm, will be getting a mid-season 13-episode run.
In the same stroke, Fox also gave a script commitment with penalty (translation: higher priority than a regular script order, but no guarantee of a pilot) to a new series by Breaking In creator Adam F. Goldberg. Adam Sandler's Happy Madison is producing the show, a semi-autobiographical family-based sitcom set in the 1980s. [Collider]