'The Worst Movie Ever' Grosses 11 Dollars On Its Opening Weekend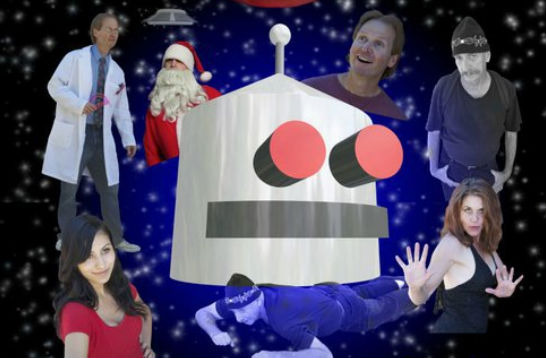 No, I didn't forget the word "million" in the above headline or Photoshop that poster myself. A movie calling itself The Worst Movie Ever actually grossed 11 dollars total on its opening weekend according to Box Office Mojo. It played twice, at midnight, at the Laemmle Sunset 5 in Los Angeles, CA and apparently only one person paid to see it.
After the jump find out where an $11 gross places the movie in history and read more about the self-proclaimed, and now mathematically proven, worst movie ever.
We wouldn't have written this article without Movieline, so thanks a bunch to them.
As is the case with most movies, it's always best to start with a trailer.
First I'd like to apologize. You can't have that 90 seconds of your life back.
Obviously writer-producer-director-star Glenn Berggoetz was going for something there and, apparently, he was successful. The blend of awful effects, acting and shooting really does look like The Worst Movie Ever.
If the film really did make $11, as per Box Office Mojo, that would make it the worst opening in the history of cinema, behind the infamous $20 opening of Zzyzx Road which starred Katherine Heigl. And that would tend to elicit a response like the one Berggoetz left on the film's official Facebook page Monday:
I just received the box office numbers from LA – ugh.
As for who spent that mysterious $11, the answer also might be on the Worst Movie Ever Facebook. One of the stars of the movie, Christine Mascolo, took a photo outside the theater so some are claiming it was her. However, the photo was taken during the day and the screenings were at midnight, plus I find it hard to believe that an actress in Los Angeles, even one who is making The Worst Movie Ever, couldn't get one friend to go and see her new movie with her. So, odds are she wasn't the solo culprit. That would mean she didn't pay to see the movie either, though.
While this might seem incredibly sad, in the end, it's probably a good thing for the movie. I'd never heard of The Worst Movie Ever before its $11 box office was discovered and I'm sure fans of bad movies like The Room and Birdemic are now going to seek this thing out. It'll make more than $11 because of that $11 dollars.