'Blackthorn' Trailer: Sam Shepard Continues The Story Of Butch Cassidy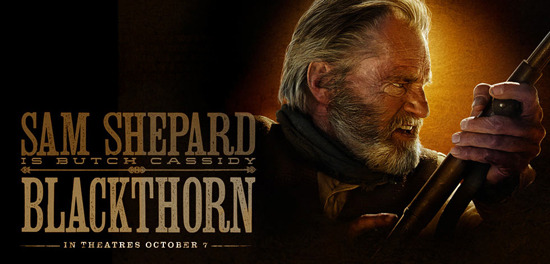 I remember reading that Sam Shepard was helping revive Butch Cassidy — the character so famously played by Paul Newman in George Roy Hill's benchmark 1969 western Butch Cassidy and the Sundance Kid — in Mateo Gil's new western called Blackthorn. (Mateo Gil co-wrote The Sea Inside and Abre Los Ojos with Alejandro Amenábar.) But I hadn't thought about the film much at all until the first US trailer arrived last night. And after watching this one a couple times, I'm now actually excited about seeing the film. Check out the trailer below and see if you're ready for one last ride with Butch Cassidy, too.
Blackthorn was shot in Bolivia, and the landscape is just unusual enough in the context of western films that it helps give the film a slightly unique sense of character. (The landscape is made up of the familiar western locations, but they're not the same locations we've seen exploited in US films for decades.)
And this trailer is simply very well cut. It highlights some excellent cinematography and good music choices. Shepard looks great, as do Eduardo Noriega and a brief appearance by Stephen Rea.
Apple has the trailer in HD. The film hits iTunes on Sept 2 and arrives in a few theaters on Oct. 7.
It's been said (but unsubstantiated) that Butch Cassidy and the Sundance Kid were killed in a standoff with the Bolivian military in 1908. In BLACKTHORN, Cassidy (Shepard) survived, and is quietly living out his years under the name James Blackthorn in a secluded Bolivian village. Tired of his long exile from the US and hoping to see his family again before he dies, Cassidy sets out on the long journey home. But when an unexpected encounter with an ambitious young criminal (Eduardo Noriega) derails his plans, he is thrust into one last adventure, the likes of which he hasn't experienced since his glory days with the Sundance Kid.