TV Bits: 'Modern Family' Star To Play Fatty Arbuckle, Isaiah Mustafa In 'Charlie's Angels,' ABC Picks Up 'Jekyll & Hyde'-Inspired Drama, Return Dates For 'Covert Affairs' And 'Burn Notice'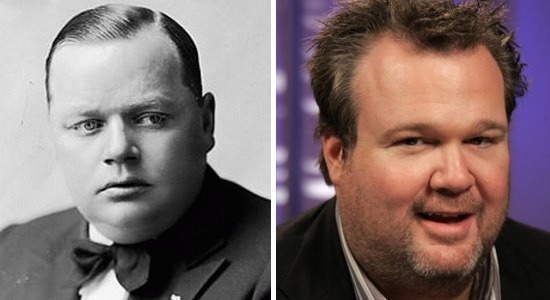 Modern Family star Eric Stonestreet has signed up to play silent film star Roscoe "Fatty" Arbuckle in an HBO biopic titled The Day the Laughter Stopped. Arbuckle was one of the most popular, most successful actors of his time, but his career fell apart after he was accused of raping and murdering actress Virginia Rappe. Although he was eventually acquitted, he never completely recovered. He enjoyed only a very brief comeback before he died of a heart attack in 1933 at the age of 46.Barry Levinson is set to direct the film from a script penned by John Adams screenwriter Kirk Ellis. The project is apparently something of a dream come true for Stonestreet, who's been looking for a potential Arbuckle project since the late '90s. [Vulture]
After the jump, the Old Spice guy gets a new gig, ABC picks up a split-personality drama, and USA announces return dates for some of its most popular shows.
The series is being described as "odd buddy show where the buddies happen to be the same person," which I'm hoping means it'll have a sense of humor instead of being just another "gritty reboot." The project is being produced by Turner and his business partner Jennifer Klein. [Deadline]
Old Spice spokesmodel Isaiah Mustafa has just landed what's probably his highest profile gig not involving tickets that magically turn into diamonds, in the form of a recurring role on ABC's new Charlie's Angels reboot. Mustafa will be playing Ray Goodson, a police detective once engaged to ex-cop and current Angel Kate Prince (Annie Ilonzeh). Goodson occasionally runs into the Angels when he finds himself working the same cases as his ex and her new colleagues.
Since appearing in the phenomenally popular body wash commercial, Mustafa's had a talent deal at NBC (which yielded a few guest-starring spots on shows including Chuck) and supporting roles in Madea's Big Happy Family and Horrible Bosses. Mustafa's first appearance on Charlie's Angels will be on or around the fourth episode of the series, which premieres September 22. [Cinema Blend]
USA has announced return dates for spy shows Covert Affairs and Burn Notice, as well as a tentative schedule for White Collar. Covert Affairs, which wrapped up the first ten episodes of its 16-episode second season on August 9, will be returning for the remainder of the season on November 1, while Burn Notice will begin airing the last six episodes of its current season November 3. Burn Notice is currently nine episodes into its fifth season and will go on hiatus after the twelfth episode, which airs September 8.
White Collar watchers, unfortunately, will have to hold out just a little while longer. Episode 10 of the series' third season aired August 9, but Episodes 11-16 won't be airing until January 2012. [TV Line]