VOTD: The Sound Of 'Rise Of The Planet Of The Apes'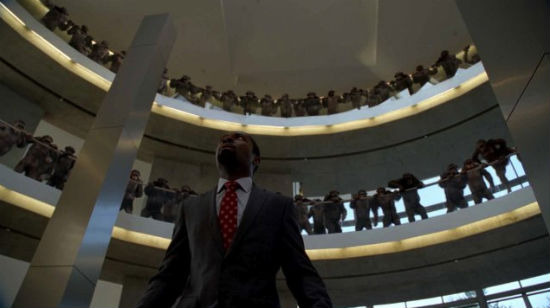 Now entering its third week of release, several things have contributed to making Rise of the Planet of the Apes one of the summer's surprise hits. The general, overall positive buzz is one. An award-worthy, performance capture turn by Andy Serkis as Caesar is another. A smart, taut screenplay by Rick Jaffa and Amanda Silver has plenty to do with it too, as is an inspired sophomore directorial effort by Rupart Wyatt. Actors, writers and directors always gets the kudos though. Sometimes it's the little people who are what truly makes a movie special. In Rise of the Planet of the Apes, the sound is certainly one of those factors.
After the jump, watch the latest video from the SoundWorks Collection (who've previously tackled blockbusters like Harry Potter and the Deathly Hallows Part 2, The Social Network and Tron: Legacy among others) and see what kind of work went into the sound design of the $130 million and counting hit, Rise of the Planet of the Apes.
This video is off their official site.
SoundWorks Collection: The Sound of Rise of the Planet of the Apes from Michael Coleman on Vimeo.
And here's the description:
Acting as a foundation with an origin story for a new film series, Director Rupert Wyatt takes the audience on the science fiction summer hit, Rise of the Planet of the Apes. The stunning visual effects produced by Weta Digital for the apes are complimented by the wide range of sounds recorded and edited for the film.
Leading the sound team is supervising sound editor and sound designer Chuck Michael and co-supervisor John Larsen with the talents of first assistant sound editor Smokey Cloud and sound re-recording mixers Doug Hemphill and Ron Bartlett.
Chimp Haven serves as The National Chimpanzee Sanctuary. They are an independent, nonprofit organization whose mission is to provide lifetime care for chimpanzees who have been retired from medical research, the entertainment industry or no longer wanted as pets. For more information visit: www.chimphaven.org